How would you survive on a deserted Tasmanian island?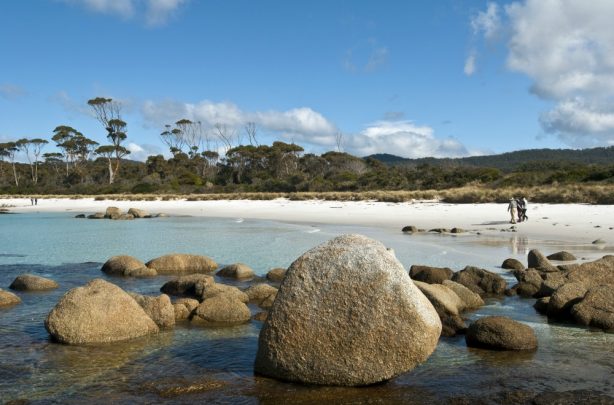 Many couples never get enough time alone together. In the early days there is work commitment and of course the kids make alone time difficult. Even in retirement many couples fill their lives with so many activities there is not a lot of time alone.
So imagine being stuck alone with your loved one on what is pretty much a deserted island for six months. You don't need to get shipwrecked to do this either. Instead you can join the Maatsuyker Island Volunteer Caretaker Program, which gives an all year round presence in the beautiful, but remote, Tasmanian location.
Read more: Tassie's western wilderness will take your breath away
Ad. Article continues below.
Volunteers in the program provide a six-months stint of caretaking services for the Parks and Wildlife Service, which includes maintenance of grounds and buildings, plant and equipment, monitoring of all power and water systems on the island, basic land management work, as well as carry out weather observations for the Bureau of Meteorology, for which they receive payment. 
It sounds like a wonderful opportunity, but there is a catch, or two. The weather is cold, but you would expect that in Tasmania. The island has limited facilities, and the accommodation has minimal heating. 
Access to the island is only by helicopter. Although you would have an AM radio and access to a landline phone there is no internet or email. Not only that, you would need to take all your supplies with you, food included, for the duration of your stay.
Oh, and don't forget the rain coat. It rains around 250 days a year. And then that is it… just you and your partner.
Ad. Article continues below.
Read more: 8 things to do in Tasmania that you simply cannot miss
The Maatsuyker Island program is filled until September this year, but you can  still apply for the next round of expressions of interest, which will be posted in February or March.
It is certainly a great way to get away from it all, but it is not for everyone. There are chances disagreements might start before you have even left the mainland, when the packing begins. What are essential foods? What are essential entertainment items? What is essential wardrobe requirements?
Then you arrive and the serenity starts. This is when you are mostly likely to realise how important those essential entertainment items can be. But it is also an opportunity to get to know your partner on a whole deeper level and experience a beautiful location few others do.
Would you survive this sort of experience? What are your tips for getting along with your partner under those circumstances? Let us know in the comments section below.