How to travel with nothing but hand luggage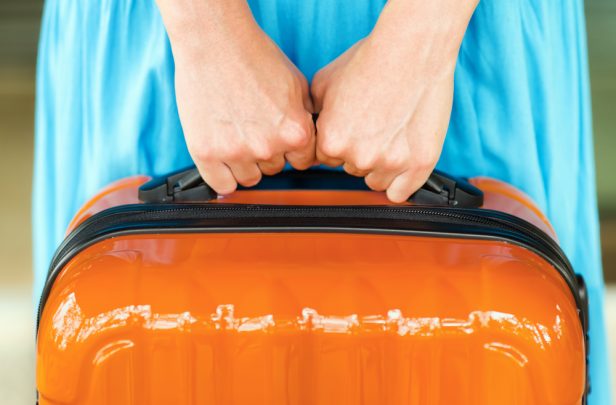 There is one sure-fire way to beat the queues at the airport when travelling.
Avoiding the lines for luggage drop off and pick up is as simple as taking only a carry-on bag. It also means for easier travelling too, with a lot less weight to cart around. If the idea of cramming all your belongings into one single bag seems beyond you, here are sure-fire tips to reduce the load.
Work out your schedule. Include everything you intend on doing and then work out what sort of items will be required. Sporting, formal, warm, cool, and active, for example, also taking in cultural expectation at your destination.
Plan out your outfits for each of those activities. That include the outfit, the underwear, the shoes and accessories. Remember, you can wear an outfit more than once, by doing a little washing along the way.
Refine those outfits. Do you have something that will work on multiple occasions? A dress that is casual and can be dressed up is a good start. Adding a scarf, a jacket, a loose shirt over top can make the outfit look different each time, without taking up bulk space. The options of mix and match tops and bottoms is also a good idea that can give you more versatility in your wardrobe. Colour coordination is key here, as you need to be able to wear each top with each bottom. Sort through your shoes to see what will work with most of your outfits. Ideally two pairs of shoes is all you want to pack. When it comes to underwear and sleep wear, you don't need to over pack. Underwear can be easily washed and dried in the motel room while one sleep wear item should get you through the trip.
Ad. Article continues below.
Read more: 7 tips for taking medication on holiday with you.
Reduce your toiletries. Purchase travel sizes items or put your favourites into smaller containers to get you through the trip. Reduce your make-up bag to the bare essentials.
'Just in case' items are just taking up space. Leave them out.
Don't take your normal purse full of excess cards and things. Reduce down to a smaller purse or wallet containing just the essentials.
Read more: What to do if you arrive at the wrong airport.
Ad. Article continues below.
It's a good idea to pack a small lightweight foldable backpack style bag you can pop your wallet and smaller items in as an extra carry-on, like you would carry a handbag. This works well to hold snacks but also for items you need fast access too, like plane tickets, passports etc. The entire backpack can be stored in your hand luggage when not needed but makes all the items easy to get to when you do need them.
You can condense down your technology too, by taking an iPad or the like, which contains an e-reader instead of books, plus allowing you access to maps, travel information, emails and internet while you travel.
When it comes time to the packing, roll your clothing to create more space. As a bonus it prevents clothing getting wrinkled and it is a safe way to transport your accessories too, to prevent them getting tangled.
Wear your heaviest items on the plane, shoes in particular. If you do have that one bulkier item, such as a jacket, carry it in your hands (or wear it too, if the weather suits) while you travel.
Before you travel check the weight requirements of your airline. Some have tight carry-on restrictions, so you need to make sure you comply to avoid unexpected extra costs.
Do you have a tip you don't travel without?