How to get cheap drinks on a cruise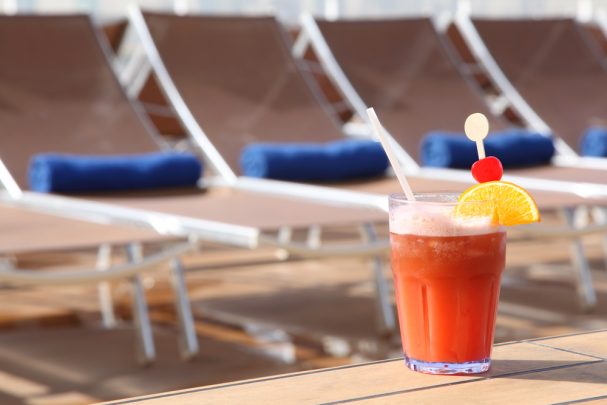 One of the best things about being on a cruise is having the opportunity to sit back, relax, pop your feet up and indulge just a little bit. For many of us that includes having a glass of wine, or three. But those drink costs can accumulate rather quickly and the price of your holiday can increase before you know it. Instead of being hit with a shock bill at the end of your cruise because of that umpteenth cocktail you ordered, here are some tips on how you can get cheap drinks on a cruise.
Read more: How to tell if your hotel bed is actually clean
1. Buy in bulk
Rather than buying just one glass of scotch and dry, buy a whole bottle of scotch and drink it throughout your cruise. If you're really smart, you'll bring a bottle of soft drink onto the cruise with you, if it's allowed, so you have a mixer for your drink throughout your trip.
2. Never buy wine by the glass
Ad. Article continues below.
The same goes for wine. Never buy wine buy the glass, instead order a bottle. We all know you're going to be able to get through a bottle anyway, and it makes the price of your drinks so much cheaper.
3. Take advantage of happy hours
You'll often come across happy hour on a cruise, and if you do like your odd glass of booze, then it doesn't hurt to take advantage of the cheaper prices during happy hour while you can. It will save you big instead of paying full price during dinner.
Read more: 10 Ways to get the most out of your river cruise
4. Attend tasting events
Ad. Article continues below.
All cruises have exciting events on board and, yes, some of them even involve alcohol. Sign up for the tasting events and you'll spend a fraction of what you'd pay for a bunch of cocktails and wines.
5. Drink up while at the port
See the port stops as an opportunity to have a couple of drinks. The further away you get from the port, the cheaper the drink prices will become, too. Go for the local beers if you really want to get the opportunity to have a cheaper drink.
6. Bring wine on board
Some cruises actually allow each person bring a bottle of wine on board with them, so take advantage of that if you can and buy a bottle of vino before you board to pack into your suitcase.
Do you have any more tips for how to get cheap drinks on a cruise? Spill the beans in the comments section below.