How to cook a hot meal in a hotel room without a kitchen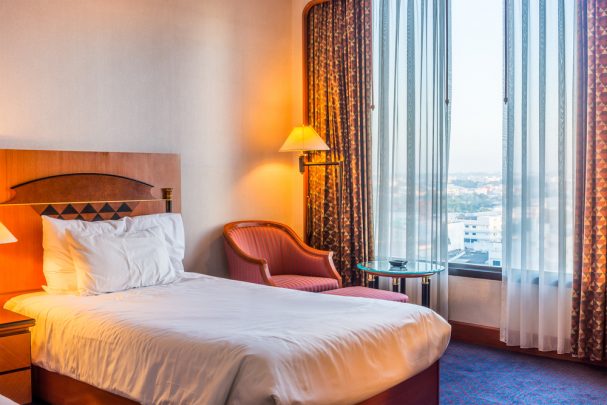 Booking a hotel without a kitchen is a great way to save money, but so is cooking your own meals. So, how can you manage to do both? Well, there is a way, all you have to do is be a bit creative with the everyday items you have lying around the hotel room.
Regardless of whether or not you have a kitchen in your hotel room, there are some everyday items that are probably stashed away around the room.
Read more: How a nappy can stop you from getting robbed on holiday
Now, if you'd like to make your own food, but want something warm that's going to fill you up, you might think that it's not possible to cook a warm meal in a hotel room without a kitchen, but it absolutely is.
First of all, you want to look through the cupboards and find yourself an item that is regularly tucked away somewhere, but seldom used on holiday. That's right, the iron! Now, stick with us for a moment here because this trusty household appliance could just be your next ticket to a hot meal.
Ad. Article continues below.
As well as an iron, you're going to need some foil paper, a couple of pieces of bread and your choice of filling. Once you've buttered your bread and popped in your favourite ingredients, wrap it in foil paper, place it on the desk and press it down with the iron. The iron will warm up the the sandwich and make it a toastie treat in no time at all.
Read more: How to tell if your hotel bed is actually clean
The other option you have is to take a look and see if there is a kettle in the room. Regardless of whether you have a kitchen in your hotel room or not, there is almost always a kettle, and this household appliance is one of the most versatile that you'll come across.
Pop in some water with a couple of eggs for perfectly boiled yolks, or buy some rice noodles, chop up some of your favourite veggies and mix it all together. Egg noodles don't need to sit on a hot stove, they just need to be soaked in hot water until they soften.
Now, the next time you worry about how you're going to cook a warm meal in a hotel room without a kitchen, remember these tips.
Do you have any other helpful tips to add? Let us know in the comments section below.