Hotels and hospitality in Hong Kong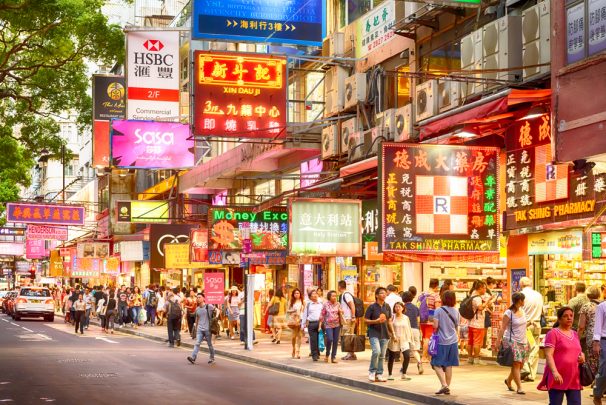 Our flight from Perth was late getting us in at 8:30am and landing in a small fog with limited visibility.
Cathay City, as the airport region is called, is huge and the air traffic coming in and out of Hong Kong makes it one of the busiest airports there is.
It's a remarkably well organised arrival process with almost split second precision. Signage in English and Chinese is plentiful and a seemingly oversupply of helpful employees direct you this way and that.
There is a train that takes you from the outer extreme of the airport to the inner immigration, baggage collection and exit buildings. Very slick!
I was surprised that there was no visa charge. It's perhaps one of a small number of countries that don't have entry fees. It was simply a matter of presenting one's passport and having it stamped by a curt individual apparently impressed by his important office and unwilling to smile, say "welcome" or engage in chatter.
Ad. Article continues below.
At least when one official noticed my wife using a walking stick to help with a bout of bursitis, he moved us to the front of the queue. I wondered whether I should get a walking stick too — feigning disability could be helpful.
There are numerous things I like about asians. Apart from my penchant for shapely, lovely brown-skinned women, the industriousness and ability to create employment from nothing has always impressed. We Australians, who have become too reliant on government as a panacea, could learn from their example.
Read more: WATCH: Southeast Asia for travellers over 60
We stayed in an inexpensive hotel with the appropriate title, Minimal Hotel Culture. The hotel is minimal indeed and in the middle of the city's traditional area, Sham Shui Po.
We got to our hotel by bus after a one-hour trip that cost $14 HKD, a pittance by $AUD calculations — around $2.50. We initially had some trouble finding it but after consulting a map and two helpful locals, we arrived at the front door. It was the newest, flashiest building in the street. When I first saw the other buildings I was concerned I had probably booked a hotel from hell just to save a few bucks. Once I walked into the minimal foyer, my spirits lifted.
Ad. Article continues below.
The hotel is new, modern, clean and nicely outfitted with tiny rooms. Thank goodness it had a lift, we stayed on the 17th floor. Each floor has only two rooms.
After settling in we went for a walk through the local markets where you can buy literally anything. The markets are grouped by product like electronics, fashion, accessories like bags, belts, and a variety of interesting odds and ends. Most of the small kiosk shops are very well stocked with heaps of inventory.
We headed to the food area and bought some lovely nasi goreng and what we thought were tofu squares that had been fried but, in fact were egg omlettes. Food is cheap and plentiful and always fresh although occasionally it's hard to determine what ingredients are included. Such fun!
Our stay was only one night as we headed out to the airport to continue our journey and will stay longer on our return. If you want exposure to the old Hong Kong and culture, I recommend a visit.
Have you checked Hong Kong off your bucket list yet? Let us know in the comments section below.