Holiday hell for tourists stuck in paradise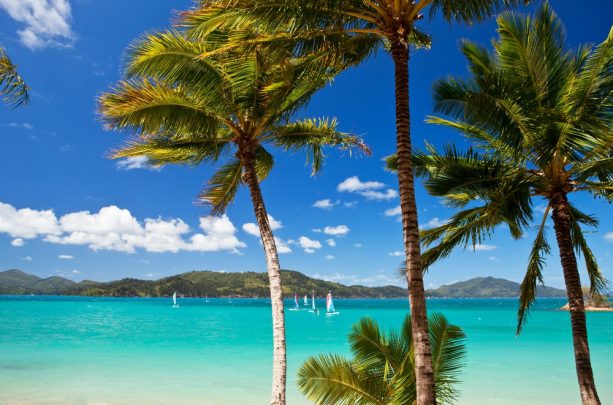 On any given day, Airlie Beach is full of tourists from all over the world.
What's not to love? It's the gateway to the Whitsunday Islands and the perfect launchpad for all you holiday adventures. Whitehaven Beach, located on Whitsunday Island, the largest of the 74 islands in the Whitsundays, is known as one of the best beaches on the planet.
But thanks to uninvited visitor Cyclone Debbie, tourists are now going to be spending longer in the region than first planned.
Those who didn't evacuate the region when the alarms were first sounded are expected to be stuck there until well after the cyclone passes and roads are reopened. It will be even longer before flights are restored to the region.
The category four cyclone passed over the region around 1pm today, uprooting trees and leaving many without power.
Ad. Article continues below.
Already residents are reporting widespread destruction, while waiting for the other wall of wind to pass over.
There have been reports of hotel rooms being trashed, car windows being smashed and even a fire hydrant being damaged, while boats in the harbour have been damaged.

Daydream Island has reported today that although the conditions were extreme, every guest has been accounted for and all were safe, as were staff. Yesterday they advised their safety procedures, advising all guests to remain either in their rooms or the main Atrium area, which are cyclone rated. There have been reports the island's jetty has been wrecked.
This before and during of Hamilton Island shows just how strong the winds and tides have been.
Ad. Article continues below.
Already tourists are asking questions over whether their planned upcoming trips are still possible. It will take a while before the questions can be answered, and the clean-up begins.
Others have already been hit in the pocket, with one tourist taking to social media to say they have been charged $158 to extend their car rental, as they are unable to reach their destination thanks to the cyclone.
The last time the Whitsunday's faced the direct hit of a cyclone was back in the 70s.
Have you been caught up in Cyclone Debbie? Share your stories and images using the hashtage #travelat60 or let us know in the comments section below.