Hijack scare grounds Melbourne flight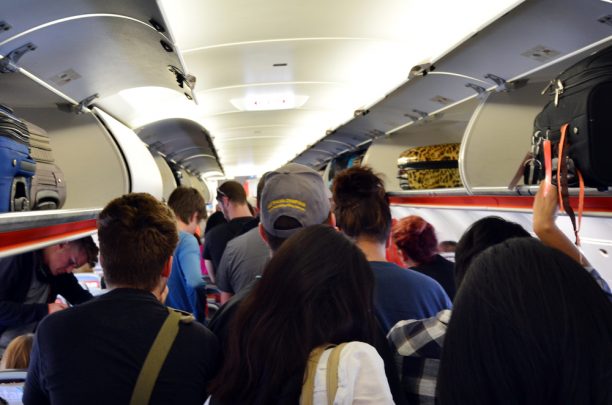 A Malaysia Airlines flight from Melbourne to Kuala Lumpur has had to return to Australia after a passenger allegedly attempted to enter the cockpit with what he claimed was a bomb.
The passenger, who was described as threatening and disruptive by the airline and police, reportedly threatened to "blow the plane up" before being tackled and restrained by others on the flight.
"I've got a bomb and I'm going to f***ing blow the plane up," the man reportedly said while brandishing a metallic-looking object. 
"I need to see the captain," he said, according to fellow passenger and AFL player Andrew Leoncelli.
"Literally, he was eyeball to eyeball with me saying he was going to blow the plane up," Leoncelli added.
Ad. Article continues below.
Read more: US laptop ban could extend to all international flights
"He looked like a lunatic. For some reason he lost his nerve and he ran… and he headed towards the back of the plane.
"I hadn't done anything to him except confront him," he said.
A man named Russell, whose brother-in-law was on the plane, told talkback radio 3AW that a few people from business class tackled the man to the ground.
"Three or four people in the business class section I suppose abandoned their champagne and their orange juice and they gang-tackled him to the ground," Russell said.
Ad. Article continues below.
"They sat on him until they discovered the device, I think it was a transistor radio, gaffer taped to his chest."
There have been calls for local police and airline staff to explain the situation, with concerns surrounding why the man was able to carry a "watermelon-sized" electronic device onto the plane with him.
"The safety of the passengers is paramount so we needed to consider a number of options and Victoria Police were handling that side of things in discussion with us and we needed to make sure that all contingencies were covered," Superintendent Martin Goode from the Australian Federal Police said. 
A man is in police custody after bomb threats were made on board a @MAS​ flight after taking off from Melbourne. #7News pic.twitter.com/WrQF56HMXY

— 7 News Queensland (@7NewsQueensland) May 31, 2017
Ad. Article continues below.
Melbourne airport has released a statement advising passengers that the airport has since resumed normal operations.
The Malaysian Government have since announced the passenger was a Sri Lankan national and wasn't carrying a bomb, but a "powerbank", while the Victorian Police have said a 25-year-old Australian citizen from Melbourne has been taken into custody.
The incident is not being treated as terrorism related.
What do you think of the inflight incident? Let us know your thoughts in the comments section below.