Government urges badly behaving Aussies to stay out of trouble on holiday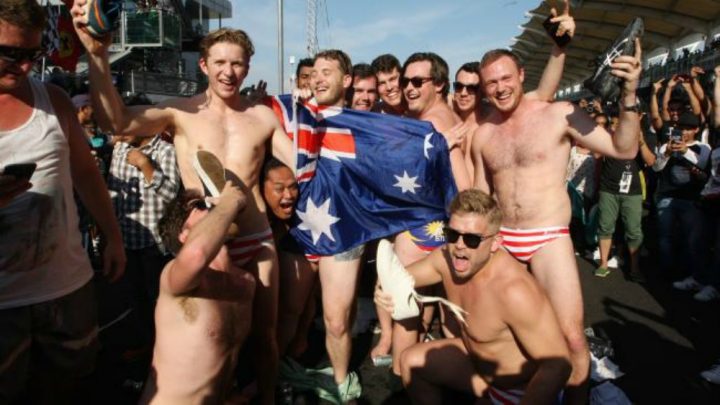 While Aussies are known around the world for being a group of people who like to have a good time, it seems that they might be enjoying themselves a little too much while they're abroad, according to new statistics.
A new report from the Department of Foreign Affairs and Trade has revealed that more Australian travellers than ever are being arrested, jailed, assaulted and hospitalised overseas, prompting a warning from Foreign Minister Julie Bishop about reckless behaviour and the growing workload placed on Australian consular officials as a result.
Read more: Malaysian arrests should be a warning to Aussie travellers
Of the 10.2 million Aussies who travelled abroad, the 2015-16 Consular State of Play revealed that government assistance was provided to 15,740 people.
A total of 1,551 Australians were arrested in foreign countries in 2015-16, an increase of 23 per cent, with drugs, fraud and assault the most common offences. There were 391 Australians assisted in overseas jails, 61 of which were in mainland China.
Ad. Article continues below.
Deaths were also up to 1,516 from 1,228 the previous year. Most were attributable to sickness or natural causes but 47 related to murders and 214 were the result of accidents.
Of the 315 assaults (up from 234), 136 were of a sexual nature — an increase of 40 per cent on the previous year.
Incidents that triggered the most inquiries or requests for consular assistance were the Bangkok bombing in August, 2015, the Paris terror attacks in November last year and the January attack in Jakarta.
Thailand remained the country where Australians were most likely to run into trouble with consular cases up 25 per cent on last year to 836, followed by the US with 770 — a 19 per cent increase on 2014-15.
The most common reason for arrest and imprisonment was drug-related offences followed by fraud and assault.
Ad. Article continues below.
"The advice to travellers is simple," noted the report. "Don't carry or consume illegal drugs overseas. Ever."
On a brighter note, only eight per cent of Australians travelling overseas did so without insurance but younger people were more likely to tempt fate, with 15 per cent of 18 to 24-year-olds leaving the country with no cover at all.
"Too many people are willing to travel uninsured," said the report.
Ms Bishop said the figures made for "interesting reading" and she was particularly concerned about a lack of knowledge about local laws and customs, noting that Australian consular action was "significantly constrained" once people were subject to a foreign legal system.
"The Australian government can only do so much," she said. "The Australian government is not a hospital, it is not a hotel, it is not an internet cafe and our consular officials cannot just whisk you out of jail. People have to take responsibility for their behaviour overseas."
Do you agree with Julie Bishop? Do you think Aussie travellers are getting too unruly while on holiday?