A journey through George Orwell's Burma – Part One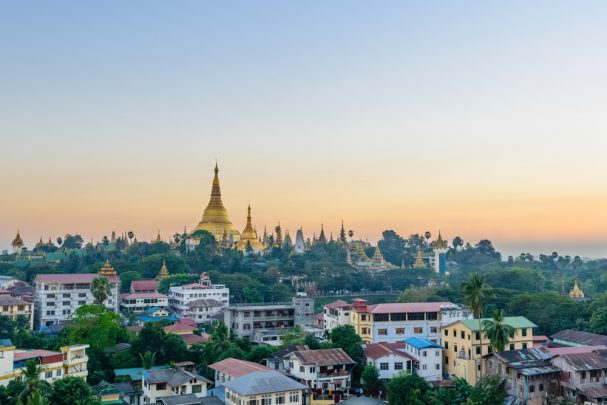 As I stood at the rail of our cruise vessel, the Pandaw II looking towards Katha in Burma, I wondered how George Orwell must have felt as he arrived at this remote Upper Irrawaddy river port.
I had been cruising the river for several days, and was looking forward to seeing the home where the English author George Orwell had lived in 1927. George – his real name was Eric Blair – arrived in Burma in late1923, and was initially posted to Maymyo, Burma's principal hill station, before being sent at the beginning of 1924 to the frontier outpost of Myaungmya in the Irrawaddy delta.
He had several other postings, including one to Moulemein in Burma's south east, where his maternal grandmother lived. But in 1927 he was dispatched to Katha, the town that became the setting for his first book, Burma Days.
It was while serving there that George contracted dengue fever and was allowed to return to England in July because of illness. He never returned to Burma. Now, as the Pandaw crew tied up at the Katha mooring, I had vision of George's former home sitting grandly amid lush, tropical gardens as something of a large museum piece for myriads of visiting Orwellian addicts.
Sadly, such was not to be the case. The 26 passengers, including ourselves, had piled into about a dozen horse-drawn carts, and rumbled through the pot-holed streets of Katha, past the old British Club, with its overgrown tennis court, often referred to in Burma Days — and eventually came to a grinding halt at 'the spot'.
Ad. Article continues below.
We eagerly climbed from our carts, quickly walked to the entrance to George's Katha estate and stared up a long and neglected pathway that led to the two-storey, but badly neglected, timber home with its rusting galvanised iron roof.
"This is splendid house where Mr. George wrote book Burma Days," said our guide very solemnly. "Can't go closer. House lived in by crazy old woman." The guide was actually wrong. Burma Days was written in London over a six-year period – after George had quit Burma, although it is true that Katha provided the setting for the book.
So we all stood and stared forlornly at the house, with most of us – including myself – taking several photographs. The mansion must have been extremely grand during the 1920's when George stayed there. But these days it looked like so many of Burma's old and historic houses and buildings: overgrown, rundown, mouldy and water-stained.
In its heyday the home would have been idyllic, and one could imagine Eric Blair a.k.a. George Orwell, dressed in whites and wearing a wide brimmed sunhat or pith helmet, as he sat in a manicured tropical garden under shady trees sipping a gins and tonic.
Picturesque Katha was also the final resting place of the old Irrawaddy flotilla when well over 200 ships were scuppered in 1942 to prevent them from falling into the hands of the invading Japanese. The town still has a surprising number of now derelict colonial-style homes, all overgrown by jungle, yet providing a wonderful legacy to the Imperial colonial days.
Ad. Article continues below.
We should not have been surprised. Burma is a poverty-stricken country and, until recently, had been ruled for more than 40 years by a despotic military junta. Even in the capital city of Rangoon – now called Yangon – many of the colonial buildings are crumbling and mouldy. Most have grass growing on their roofs and form cracks in their walls. A great number have sprouted small trees.
But Burma is a country of great character populated by the most hospitable and friendly people. 
Stay tuned for Part Two of John Mitchell's exploration of Burma, a nation that inspired some of George Orwell's work. Have you visited this part of the world?