A journey through George Orwell's Burma – Part Two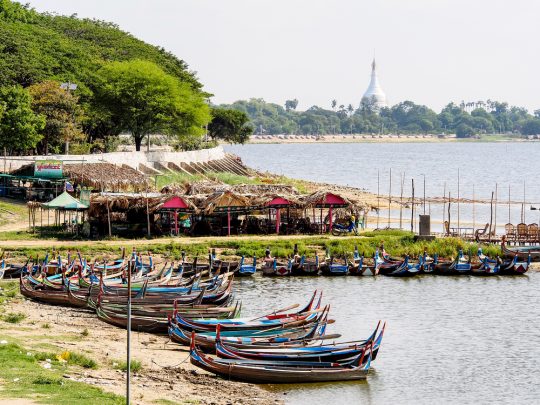 We boarded the 60-metre Pandaw II in Mandalay, and as each day of the 7-night cruise melted into each other, one could be forgiven for forgetting we had gone back in time, because little has changed along the Upper Irrawaddy.
Remove the electricity wires and motorbikes and the few cars, and the year could easily have been in the 1920s. Each morning and afternoon there were outstandingly interesting onshore excursions lasting between 90 minutes and two hours.
In Mandalay we saw gold leaf being made, toured silver and marble carving workshops and marvelled at the largest pagoda in Burma. We also walked along a 1.2km teak footbridge, which spans Mandalay's Lake Taungthaman where the Pandaw II's purser, Win, surprised us as we sat in small rowing boats on the water by producing an esky, wine glasses, and copious quantities of a delicious cocktails.
He proceeded to hand a glass of chilled cocktail to everyone as the rowers propelled our boats past his own! At Mingun we saw the world's largest working bell and a 50-metre high but unfinished pagoda that is the world's largest single mass of brick building.
We explored river villages where Europeans are a novelty and generally only seen once or twice a year when a cruise vessel stops. The Pandaw fleet of vessels is operated by the new Irrawaddy Flotilla Company, and are replicas built by Scotsman Paul Strachan, with the name harking back to the late 1800s and 1900s when river traffic in Burma was the only realistic way to travel.
Ad. Article continues below.
The fleet also operates along the Mekong (Vietnam and Cambodia). All are well-equipped with up to 28 double cabins, an excellent dining room with expansive views, forward saloon and a magnificent panoramic sundeck equipped with teak lounges and rattan furniture and tables. Meals are excellent.
Breakfasts are buffet style and include any choice of eggs (cooked while you wait), bacon, sausages, tomatoes, cereals, fruit and cheeses, plus several Asian dishes. Lunch is also buffet style, and very extensive with marvellous salads, hot and cold dishes, and fresh fruit.
The evening meal, slightly more formal, is always three courses – with the main generally being Asian dishes from Thailand, Vietnam, Burma or Cambodia. The cruise has a number of inclusions such as local soft drink, beer, tea and coffee, and wine, plus delicious cakes and biscuits that are baked each day by the chefs.
Burma is a magnificent country, and visitors reap a wealth of memorable moments as they discover that the Burmese are a generous and warm people with a wonderful outlook on life, despite their military government, which is at last easing its iron fisted grip on the population and opening up the country to tourism.
This post is a featured review written by John Mitchell. To submit your own review, click here. 
Be sure to read Part One of John Mitchell's exploration of Burma, a nation inspired some of George Orwell's work. Have you visited this part of the world?