Everything you need to pack for a winter holiday in New York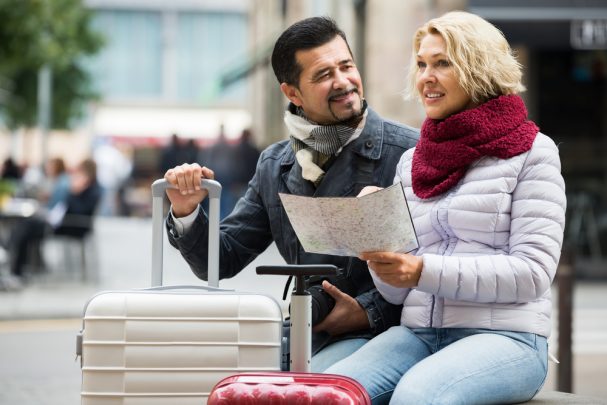 Spending a winter in New York is the thing of dreams. There is snow and ice-skating in Rockefeller square, a white Christmas and holiday markets at Bryant Park. While the weather might be crisp, residents and visitors alike don't hesitate to head outdoors to enjoy the local attractions that truly make New York a city that never sleeps. If you are planning your holiday to New York in November, December or January, then you can't go past this ultimate packing guide for a New York winter.
Ad. Article continues below.
1. Clothing you can layer
While the temperature outside is going to be cold in New York, the department stores, theatres and other indoor attractions are going to be very well heated. So, instead of sweating up a storm as you go from outside and back in again, layer up your clothing so they can easily be peeled off when the temperature allows for it. Cardigans, woollen jumpers and long-sleeve tops are a must!
To fit in with the stylish New Yorkers, you're going to want a trendy and chic trench coat. Not only will it keep you toastie warm, but you'll be fitting in with the locals, too. Who knows, a fashion photographer might even stop you for a snap, too. Make sure it's waterproof, though, you don't want to get wet
3. Water-resistant boots
There's nothing worse than working through New York and getting stuck in the snow and the rain with wet and cold feet. You want to make sure that not only are your boots comfortable but that they are going to keep your feet nice and warm, no matter the weather.
Do not, I repeat, do not skimp out and buy a cheap umbrella. The rain and the wind can get very strong in New York during the winter, so you want to make sure that your brolly is going to withstand torrential rain and strong winds. Hold off on purchasing one until you arrive, and you'll find a strong one that will do the trick.
It's so important to protect your bare neck during the cooler seasons, and even if you're rugged up in your best trench coat jacket, if you're not wearing a scarf you'll definitely feel the chill. There is no scarf too woolly for a trip to New York during the winter.
It's not just your body that needs to be kept warm while in New York, your face and head are going to need protecting, too. Wear jackets with hoods, or pack your favourite beanie. There's nothing worse than your whole face freezing while the rest of your body is cosy and warm.
A thick pair of warm gloves are an absolute must when packing for a trip to New York during the winter. Just remember, though, that you won't have much mobility, or be able to use your camera or phone easily, with gloves. You might want to consider a pair of mittens with cut-outs for your fingers instead.
Don't forget a warm pair of woollen socks that will keep your feet nice and cosy, too. Make sure they're warm and thick and, very importantly, comfortable. You don't want to spend your days walking around the Big Apple, only to find your feet are in pain at the end of the day.
What else would you pack on a winter holiday in New York city? Let us know your tips and advice in the comments section below.