Elvis' engineless private jet sale disappoints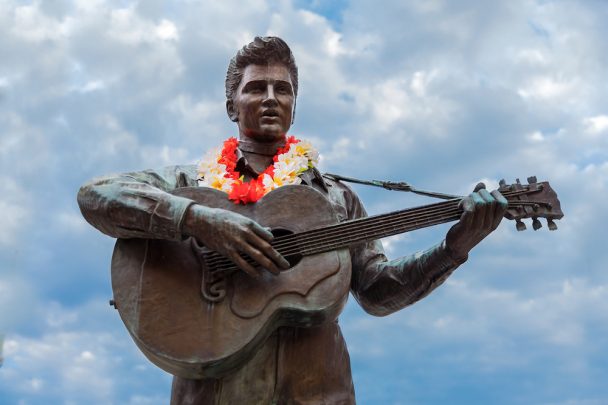 After sitting on a runway in New Mexico for the past 35 years, Elvis Presley's private plane has sold at auction for more than half a million dollars. While that seems like big bucks, the site auctioning the plane expected it to sell for US$2 million to $3.5 million.
The plane is however sans engine, so perhaps the auction site needs a little less expectation. Elvis himself designed the interior of the plane, which still features gold-toned woodwork, red velvet seats and shag-pile carpet.
The jet was owned by Elvis and his father Vernon Presley before it was sold to an anonymous buyer. Elvis owned three private planes in his lifetime, the other two are on display in the Elvis Presley museum.
Read more: How to pick the best seat on the plane
The news of the plane's sale comes as John Travolta announced he will be donating his personal Boeing 707 plane to the Historical Aircraft Restoration Society (HARS) in Sydney.
Ad. Article continues below.
Travolta's plane was originally part of a Qantas fleet in 1964 before being moved on to private use. Travolta himself is a Qantas ambassador who has a lot of faith in HARS to look after his beloved plane.
Travolta said in a statement: "As many of you will know, flying is a passion of mine and I am just so grateful to be fortunate enough to count many hours flying such a beautiful aircraft."
Read more: 8 ways to get through an airport quickly
"The aircraft currently requires a lot of work to be restored to a safe flying state and having seen first-hand the dedication and passion of people at HARS, I have no doubt this beautiful and historical aircraft will be flying again.
"I am truly excited by this project and am just so pleased that this beautiful aircraft, for which I obviously have very fond memories, will continue to fly well into the future."
Ad. Article continues below.
Travolta said he is hoping to be a part of the crew to fly the aircraft to Australia for the handover.
Other celebrities with their pilot's license include Morgan Freeman, Harrison Ford, Tom Cruise, Dr Phil and Jimmy Buffett.
Do you think Elvis' private plane should have fetched more? Let us know in the comments.