Donald Trump leaves White House tourists shocked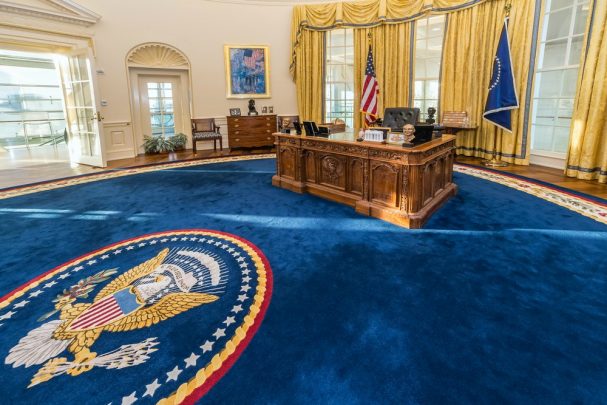 A group of tourists visiting the White House in Washington have been given the surprise of their lives after a special guests popped in to see them.
The group, mostly made up of school children on an excursion, were enjoying the walk around the official residence of president Donald Trump when the man himself jumped out from behind a partition to say 'hello'.
With screams and shouts of surprise, the president waved to the crowd and pulled one of the school children, a 10-year old named Jack, up to the front to pose for a few photos with him.
Trump gave his trademark thumbs-up to the group and told them to "work hard" before retiring behind the partition again.
With plenty of media there capturing footage of the tour on camera, it didn't take long for video of the moment to appear online. It was then that some eagle-eyed viewers noted a rather domineering portrait of Hillary Clinton hanging on the wall smiling down on Trump.
Ad. Article continues below.
The White House only reopened its doors to tours yesterday after months of silence. While other presidents have thrown open the doors just days after their inauguration, Trump's team have held off, with First Lady Melania only welcoming guests for the fist time yesterday.
Take a look at the moment below and tell us: how would you react in this situation?
Have you visited the White House before? Have you ever been to Washington?