Unexpected adventures await while doing washing in Florence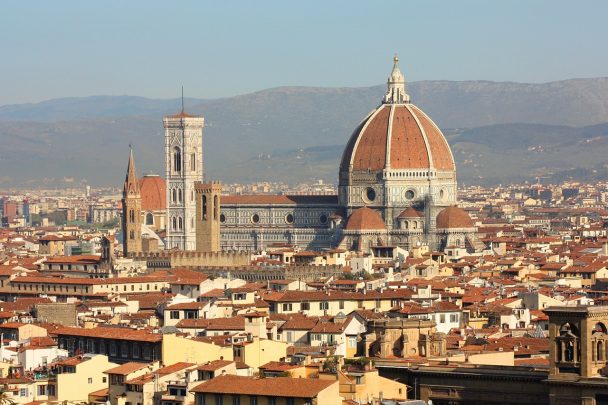 Our hotel room window overlooks an alleyway and we woke to two Italian ladies having an animated discussion in Italian. How I love to listen to them as they speak in what sometimes seems to be anger, but I have decided is not and is simply their passion for life that is expressed in everything they do.
We were disappointed to find there is no kettle in our room to make tea. Otherwise a perfect hotel room in every other respect, even down to the lovely towels embroidered in the hotels logo that are replaced every day.
We set off for our breakfast, which is held in a former ballroom with 19th century fresco ceilings. We were a little disconcerted about the staff members standing sentry at the entry to the breakfast room, along with the subtly placed sign urging all visitors to restrain from taking food away with them.
As we were regularly guilty of this crime in various hotels and cities, in order to procure an inexpensive and light lunch of sorts, we were dismayed at first but as I had my handbag with me I was able to ferry away a banana and a yogurt for my lunchtime meal.
Our first item on the agenda for today was to get some washing done. As we had been travelling for some weeks now, we were in urgent need as I had managed to hand wash some underwear, but larger items proved unsuitable to be washed in the bathroom sink.
Ad. Article continues below.
We asked reception where the nearest laundry was and she showed us on the map a location some many streets away. However, Keith did some research on the internet and discovered a laundry much closer, so we sorted out our washing and set out to find it. We found it easily within a few minutes' walk of the hotel and were amazed the receptionist was not aware of this establishment. Perhaps it is their policy to encourage guests to use their laundry facility, but at€2 per item of underwear and €5 per shirt, the cost would have been exorbitant.
We also asked them if they could provide a kettle for our needs and they were happy to do so.  We already had coffee and tea and just needed to buy some milk.
We set our items to wash and set off to explore the local streets. I was thrilled to see a man sitting on the pavement and playing accordion. I do love Italy. We then set our clothes to dry and went to explore further and had a coffee in a local café. However it was to cost us dearly, because we chose to sit down. In Italy, if you stand and drink your coffee, it is less than half the price to sit down. Therefore, most people stand and it's usually the gullible tourists that sit down unaware of this practice. We are aware and have been for some time, however we chose to sit because we are oldies and like our coffee seated.
We collected our laundry and walked back to the hotel to drop it off.  We then set off to explore the area some more. We found a grocery store and ventured in to buy some supplies for our lunches as we often do while travelling.
Ad. Article continues below.
I must say that I do love grocery shopping overseas. Which milk to buy? Which yogurt or cheese? When confronted with the variety of milks and yogurts available and being unable to understand any of the descriptions on the packages makes for some fun and experimental eating. We are now experts at most of the systems for purchasing fruit as in the markets here you must weigh your fruit and produce a sticker with the price by typing in the number of the item. 
We headed back to the hotel for our lunch and a rest. After a little confusion with our kettle and finding the right adaptor for it to be used we were in business. 
Have you ever been on an unexpected adventure while travelling abroad? Let us know in the comments section below.