Disaster strikes Aussie favourite holiday spot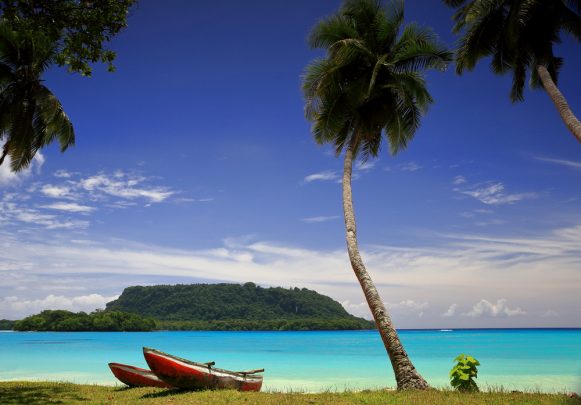 It's a beautiful region that is favoured by Aussie holiday makers, but the South Pacific is under threat as an earthquake and cyclone impact the area.
The island of Vanuatu was hit on Tuesday by a 6.8 magnitude earthquake. No tsunami warnings have been issued yet.
The region is also in the direct path of category three tropical Cyclone Donna with the island nation of Vanuatu expected to be hit this weekend.
"It is going to be severe, category three at least and maybe category four, but only time will tell," Neville Koop from the Nadraki Weather Service told the ABC. 
"It's not going to be the same force as [Tropical Cyclone] Pam but it is going to be maybe even a little more intense perhaps, if you believe the forecasts that we're seeing right now, than Tropical Cyclone Cook about three or four weeks ago."
Ad. Article continues below.
NASA has captured the rainfall chart, reporting the top height of the storm at 14.3km and rainfall coming down at 189mm per hour. 
Read more: How to stay safe during an earthquake
If you're planning to holiday in the region, be sure to get in touch with your travel agent and insurance provider to find out whether you will be affected.
"Being caught out on holiday by a natural disaster like the impending Vanuatu cyclone can be frustrating at best, and terrifying at worst if you get stuck in the thick of it," says Worldcare direct and general manager, Brendon Dyer.
Ad. Article continues below.
"The best thing you can do is arm yourself with knowledge before you go. The government's Smart Traveller website is a wealth of up-to-date travel information.
"And I'd definitely recommend checking for travel alerts for your destination before you leave."
"It's also a great idea to check for new updates whenever you get a chance during your trip in case things have changed or the situation has worsened since you left."
Cyclone Ella is also headed for Fiji and Tonga, with people on the islands urged to stay safe. 
Have you been caught up in a natural disaster while on holiday? Share your experiences with us in the comments section below.