Crafting items that are allowed on a plane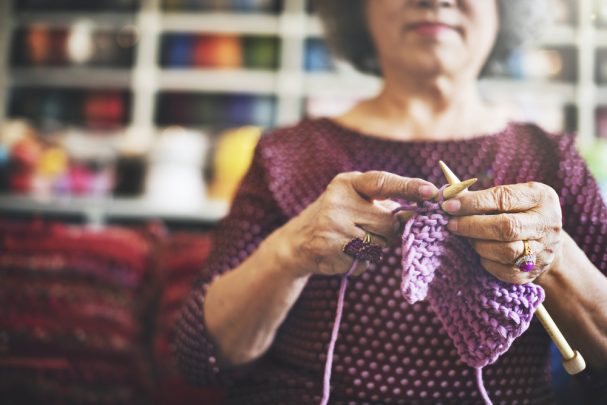 Travel is the perfect time to de-stress, relax and do all we can to unwind. But what if unwinding for you includes a bit of knitting, crocheting, or scrapbooking? Unfortunately a lot of the crafting items you'd need for those activities aren't allowed on a plane. But if you're wondering about exactly what crafting items are allowed on a plane, you're in luck. All airlines have different regulations, but these are the regulations outlined by the Department of Infrastructure and Regional Development. Here is a list of crafting items you can bring on a plane and actually enjoy during your flight.
Read more: How to avoid sitting next to a baby on a flight
Scissors
You might think that bringing scissors onto a plane is a big no-no, but that's just not so. According to the Department of Infrastructure and Regional Development, scissors with a blunt or rounded end and with a blade of less than 6cm long are permitted on a plane. So, if you want to bring a pair of scissors onto the plane for your crafting pursuits, just make sure they're small enough and with a rounded edge.
Knitting needles
Ad. Article continues below.
Knitting needles are also another unlikely item that are actually allowed on a plane. But to make sure that the airport security personnel don't consider your needles a weapon, it's best to make sure that they are either plastic or wooden. If you bring a large metal knitting needle through security, you can risk having it confiscated by airport security. The Transport Security Administration of the United States has information specifically about knitting needles, stating that: "Circular knitting needles are recommended to be less than 31 inches in total length," and "We recommend that the needles be made of bamboo or plastic (Not Metal)."
Crochet hooks
Crochet hooks are also permitted, but it's worth bringing hooks that have a rounded instead of sharp edges, just to make sure they aren't considered a weapon. If you are concerned that your items might be discarded, then ask your travel agent to look into it for you before you bring your crafting projects aboard with you.
Do you know any other craft items that are allowed on a flight? Let us know in the comments section below.