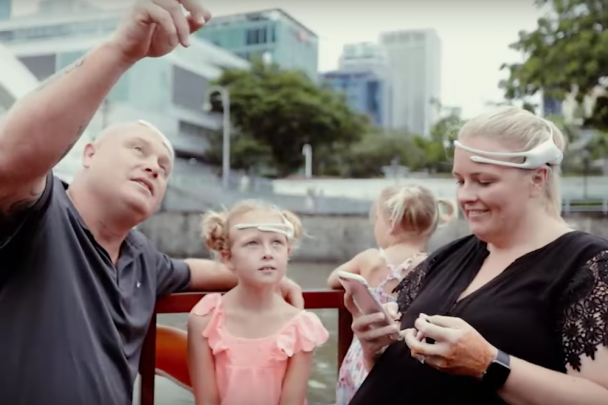 If you thought you knew what you enjoyed doing on holiday, new technology developed by neuroscientists might tell you otherwise.
Australian scientists have developed a tiara-like device to monitor the billions of neurons in travellers' brains to see what activities they enjoy the most.
Five families took part in a landmark experiment, which involved wearing the devices and embarking on a range of experiences in Singapore. The devices measured their brainwaves and emotional responses in real-time, which scientists from Australian universities analysed.
Read more: Drones capture landscapes like you've never seen them before
Associate professor of cognitive neuroscience at University of New South Wales, Joel Pearson, said the technology signified a huge step for the future of brain science, which could have far-reaching implications for the travel world.
"Using brain science to design your perfect holiday is the next step into the future of brain science and brain technology," Professor Pearson said.
"One of our really interesting findings is participants found experiences unique to Singapore were the happiest and most enjoyable experiences."
Graduate in neuroscience at the University of Sydney, Peter Simpson-Young, said another interesting finding was free experiences performed equally well in terms of participants' happiness and interest.
"We found that walking around a cultural neighbourhood found just as much happiness as all of those other types of experiences," he said.
The study was conducted in conjunction with Singapore Tourism, which has developed the unique Singapore Emotion Travel Guide – a guide of things to do in Singapore based on emotions such as happiness, excitement, relaxation and fun.
Read more: Safe and tasty street food in Singapore
Would you wear a neuron measurement device to plan a more enjoyable holiday? Let us know in the comments below.
Comments