I'd left it till the weather cleared, no sense getting wet on a four hour walk. I'd always wanted to get to the end of some of the capes on the Tasman Peninsula and I'd managed Cape Raoul last year and sought out Cape Hauy this time.
It had stopped raining at Devil's Kitchen so I packed up and drove the 20 minutes around to Fortescue Bay, parked, packed lunch and set off at around 10:30am. I had timed it right but, though the rain was no more, the bush was still wet and it continually brushed against my jeans as I made my way along the rocky trail.
The first bit beside the bay was lovely as the climb offered glimpses of what was to come, but that soon stopped and the track turned inland.
Twenty minutes in and I started to sweat though it wasn't really hot, simply the exertions required to scale the slope and the rampant humidity. I hoped it wouldn't last and eventually it levelled out and had bits of smooth boardwalk, such a relief after the uneven rocks.
It spat rain once but I knew it was just the left over so I trudged on regardless and it soon stopped. Then the undulations started until I made it past the two-hour return sign. From here the trail dropped alarmingly, the trees ceased and left only bushes, none more than 2m tall, obvious victims of the ferocity of the winds and poor soil in these parts. At one place you were well advised to grab the rope that was available.
Ad. Article continues below.
Indeed, the wind was rated as strong and, on the exposed parts you understood why. I'd passed a lone Aussie on his way back and he'd been drenched in the early downpours. Later on I came across an expat South African couple and they too had been caught. Silly them, if only they'd waited.
Now the promised views were starting to materialise. Tall proud dolerite cliffs became apparent as I moved further out on the peninsula, finally coming up the rear of one until the sound of the surf carried up the bluffs and the atmosphere changed to one of amazement.
Within 10 minutes I was at trail's end and here the panorama was positively scary. On the gosh-isn't-it-scary (not what I said but some people's censoring devices are very sensitive), scale, it rated quite highly.
The jaw dropping height of the dolerite is something to be experienced. It is truly awe inspiring. Thus, as I do, I sat and broke out my lunch of silverside soaked in tomato relish and pondered where my friends and relatives would be eating now. Air-conditioned offices, at a mine site, on their farm. I knew I wouldn't change places with any of them at that time.
The foam below washed up on the kelp beds and then left them high and dry while hundreds of feet above vegetation eked out a tenuous existence in the nooks and crannies where the barest of soil might have accumulated. Out to sea a romantic square rigger drifted along, soon to be passed by a modern yacht and then lost in the rain squall that overtook it.
Ad. Article continues below.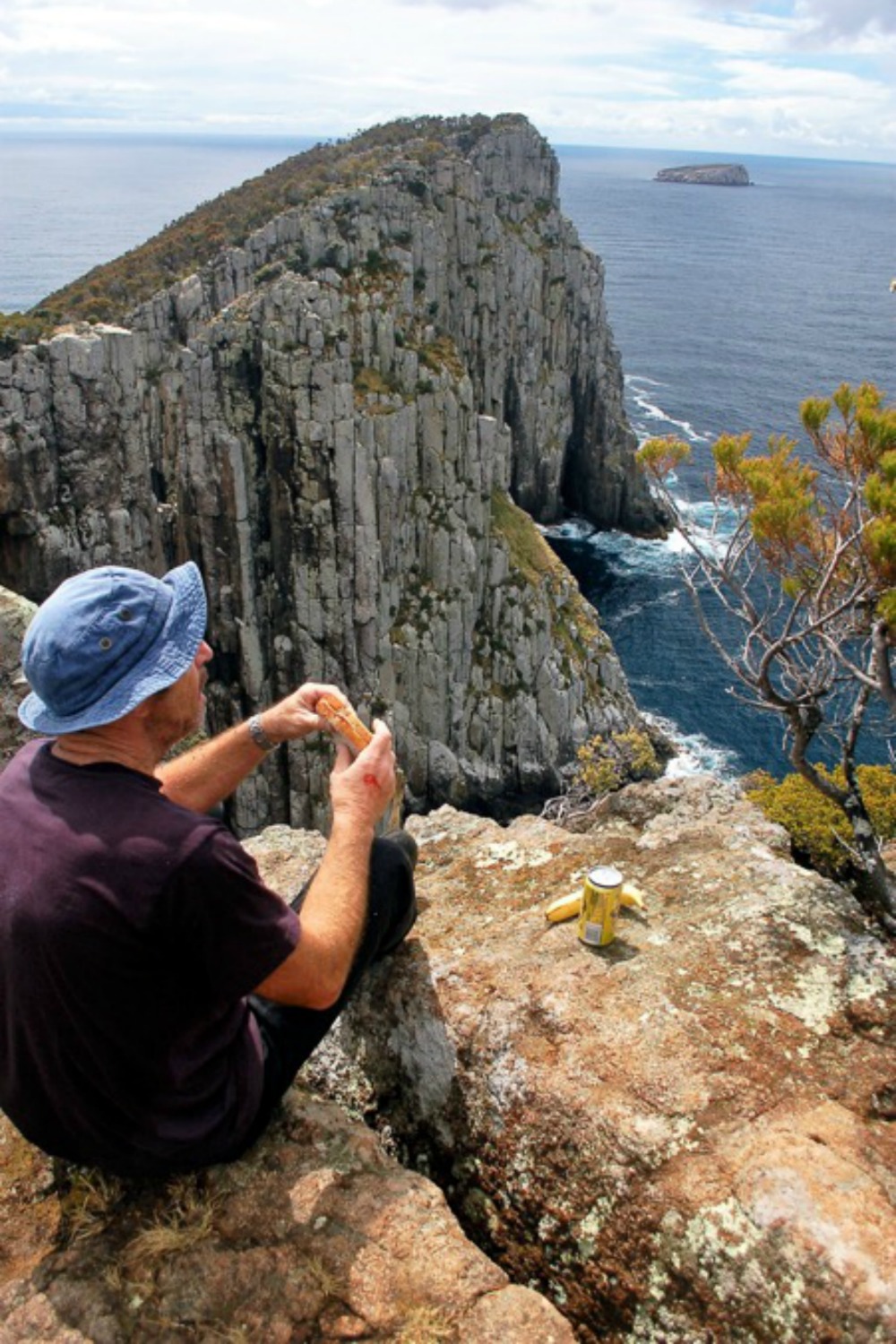 As someone once said, "It's the scale of the place that gets to you". I knew the feeling right then.
I moved around taking photos until I noticed some precipitation. I opted to shelter under a small scrawny gum tree, curled in an upright foetal position beneath its arched trunk. After about 5 minutes as the storm intensified, I realised it was going to be futile and set out on the track.
I was reminded of pop music; "wet, wet, wet" came into my head as the sky darkened all across the horizon and here I was, nearly two hours from base.
Ad. Article continues below.
Where once there were left over puddles from the morning showers, now there were ponds. In places I had to side step the trail to avoid them. Though I had a spray jacket it, too, slowly seeped moisture until I reached the two hours return sign again. By then I was saturated well and truly, no longer imagining how much smarter I'd been than those who left early.
There was a couple in their 30s there, wondering whether to proceed or not. They had only just finished the five day Overland Track two days ago and it had been fine the whole way. Now they were thinking of quitting this minor walk such was the weather.
Within another 10 minutes my boots started to squelch. What does it matter when everything including your underwear is wringing wet? It's just a noise.
The track was a series of rivulets but luckily the rocks were grippy still so walking was okay, if a little uncomfortable. As if to taunt me, just ten minutes from the motorhome it all stopped and the sun splayed on various parts of Fortescue Bay.
Every item of clothing went into the bath, hopefully to dry a little sometime in the next few days because I've since found it the bad weather is here for another day at least.
Author's note: This track is now paved the entire way and has 2,200 steps… each way. It's part of the Three Capes Walk.
Do you enjoy hiking and walking adventures? Have you done the Three Capes Walk in Tasmania? Share your experience with us.