Breast cancer patient put through humiliating airport security search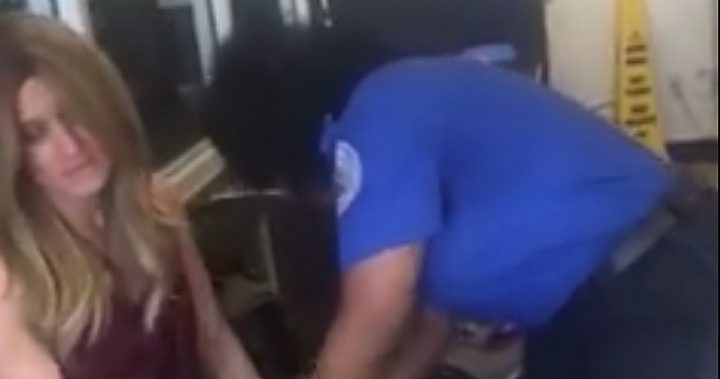 Going through airport security and having a stranger pat down your body is never a fun experience, but one woman has been subjected to a "humiliating" ordeal at a Los Angeles airport.
Denise Albert took to Facebook to share a video of airport staff roughly patting her down despite the fact she repeatedly told them she has breast cancer and has a metal port in her chest following a lumpectomy.
Apparently the who thing started when staff discovered she had a medical cream in her bag to treat the sores on her feet due to her illness.
Instead of taking her to a private room, it appears staff decided to carry out the pat down in public, even making her take of her wig as she fought through tears.
"I HAVE never been so humiliated or felt more violated in my life," Denise wrote on Facebook.
Ad. Article continues below.
"They refused to help me. The woman reached behind me and forcibly and aggressively put her hands down my jeans in the back. At some point they offered me a room but wouldn't let me put my boots on to walk there, which I can't do barefoot especially because of my open sores and rashes from my treatment on my feet.
"When I kept asking why they needed to do all of this, they kept saying because I wanted to bring medical cream on the plane."
Denise can be heard questioning why they are doing this, as she says she has been through airport security multiple times without this happening.
Things reached breaking point when the female officer tried to pat down her chest, which had recently been operated on.
"You cannot touch me there. You can't touch me there, sorry," she told the agent.
Ad. Article continues below.
"What's the issue?" a male agent intervened.
"I have breast cancer. I had a lumpectomy. I have a port in me. You can't touch me there."
"So, that's part of the procedure," a second security officer replied.
"We have to clear everything. Like she was explaining, she'll use the back of her hands. She's going to use as much pressure as she needs to clear the area. That's part of this. We have to clear the area."
After that, the video abruptly ends. Anyone who has been through an illness like this or an operation knows how sensitive you feel around that time and for many having a stranger touch your body all over would be the height of humiliation.
Ad. Article continues below.
TSA, who manage airport security, have released a statement saying they are investigating the issue to make sure protocol was followed, but stopped short of apologised.
"TSA is currently looking into the specific details as to what occurred during the screening process to ensure our security protocols were followed. We regret any distress the security screening process may have caused the passenger. We will work with the passenger directly to address her concerns."
Take a look at the video and tell us what you think. Is security more important than a person's ego? Or was this blatant humiliation?