Black box reveals why plane with Brazilian football team crashed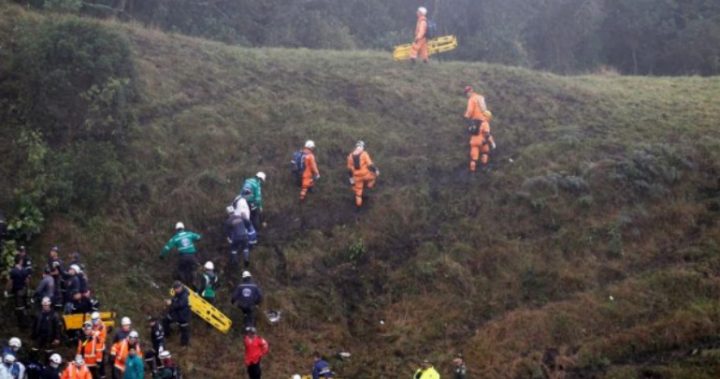 It was a disaster that killed 71 people and sent shock waves through the world's soccer community, and now it has been revealed what caused the plane to crash in Colombia.
Only six passengers on board the LaMia Bolivia charter flight survived, including three of the Chapecoense soccer team that was on its way to the biggest game in the team's history — the Copa Sudamericana final.
In a crackly recording released by the Colombian media, Bolivian pilot Miguel Quiroga is heard telling the control tower operator at the Medellin airport, "Miss LaMia 933 is in total failure, total electrical failure, without fuel."
The report correlates with that of a surviving flight attendant and the co-pilot of an Avianca plane flying nearby at the time of the crash.
"Mayday, mayday… Help us get to the runway… Help, help!" is how Juan Sebastian Upegaui described the words coming from the LaMia pilot, acknowledging that the cries for help were because the plane was out of fuel and urgently needed to land.
Ad. Article continues below.
"Then it ended… We all started to cry," Upegui says.
While a full investigation into the cause of the plane is expected to take some months — and will look at the full history of the 17-year-old plane's flight and maintenance — one survivor says he is only alive because he followed the security procedure while others around him panicked.
Bolivian flight technician Erwin Tumiri says was one of only six people to survive the plane crashing into a mountain south of the Colombian city of Medellin on November 28.
"I survived because I followed the security protocols," he told the El Telegrafo newspaper and Caracol Radio in Colombia.
When he was rescued, Tumiri says that others around him on the plane panicked and stood up yet he remained seated and followed the recommended procedure during an air emergency, which included adopting the brace position.
Have you been following this story? Do you have any messages of support or condolence for those directly affected by this tragedy?