Best gourmet food destinations around Australia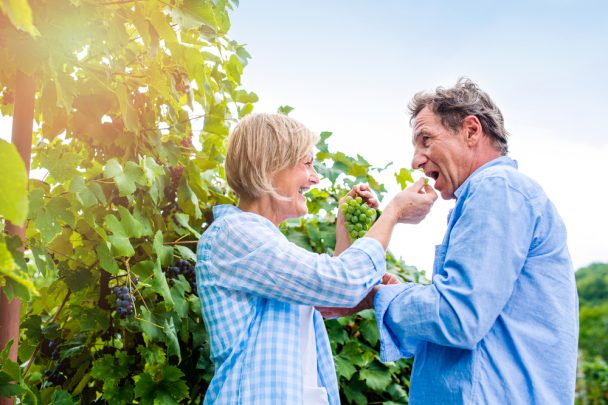 If your taste buds deserve a holiday just as much as the rest of you, then you can't look past the best gourmet food destinations in Australia. From the softest of stinky cheeses to the best drops of vino the country has to offer, Australia is home to an eclectic mix of culinary delights. Here are just 10 of the best gourmet food destinations around the country that your taste buds will thank you for.
Eager to indulge the taste buds? AAT Kings are offering Travel at 60 readers an exclusive 10% off Guided Holidays to all these destinations and more. Click here to browse some of the great deals on offer!
1. Barossa Valley, South Australia
One of the world's greatest wine regions, Barossa Valley is known for its wineries, award-winning restaurants and countryside landscapes with a patchwork of rolling hills. Spend the day here and allow your tour operator guide you through some of the world-renowned drops to sample. Then visit The Company Kitchen for a locally-sourced food experience like no other.
2. Noosa, Queensland
Ad. Article continues below.
Home to the Noosa Food and Wine Festival, this seaside town is a foodie's dream. There's simple, but delicious, coastal fare at the local surf club, as well as five-star food options at some of the most popular local restaurants along Hastings Street.
3. Christmas Hills, Tasmania
West of Launceston is the sleepy suburb of Elizabeth Town, but don't let the relaxed nature of the area fool you, this place is a hidden gem. Those in search of the perfect gourmet food destination should visit the Christmas Hills Raspberry Farm. Not only can you pick your own raspberries but you can also visit the café which sells a variety of raspberry-filled morsels including scones with homemade raspberry jam and there's even a raspberry beer on the menu, too.
4. Margaret River, Western Australia
Known as a key winery region in the world, Margaret River plays host to wineries, breweries and restaurants that would make even the fussiest of taste buds happy. There are more than 120 wineries to take your pick from, and although only 3 per cent of Australia's wine comes from this region, more than one-fifth of the country's premium wines are produced in the area. Bottoms up!
Ad. Article continues below.
5. Clare Valley, South Australia
Make a stop at Clare Valley's oldest running winery during a tour of this popular culinary destination. The Jesuit-owned Sevenhill Cellars has beautiful grounds including the St Aloysius Church if you need to ask for forgiveness for all the wine and pastries you've been eating.
6. Mindil Beach Sunset Markets, Darwin
Food is the main event at the Mindil Beach Sunset Markets and after a visit you'll feel like you've travelled the world in one day. There's everything from Thai and Sri Lankan food to Portuguese and Greek platters. These markets in Darwin attract food lovers from around the world!
7. Tasmania, Salamanca Markets 
Ad. Article continues below.
One of the most iconic foodie havens in Tasmania, the Salamanca Markets are a must for food lovers. Here you can wander through the sandstone warehouses, take your pick from the freshly-baked goods, meet the friendly locals and nosh on the tasty local produce. Once you're done, there are a variety of cafes to take a seat at and watch the world go by.
8. Hunter Valley, New South Wales
Located to the north of Sydney is another of Australia's favourite gourmet food and wine regions, the Hunter Valley. With a history dating back to the 1800s, this is where you simply cannot pass up the offer of sampling the region's Semillon and Shiraz varieties, for which the valley is famous.
9. Kings Creek Station, Northern Territory 
If you're feeling adventurous, then a trip to the Kings Creek Station is a must for lunch. It is a working cattle station as well as the largest export of camels in Australia and they even have camel burgers on the menu. What better way to enjoy a camel burger than with the beautiful outback landscapes sprawling out magnificently in front of you.
Ad. Article continues below.
10. Victoria, Queen Victoria Markets
The Queen Victoria Markets are an example of the melting pot that the city of Melbourne, and Australia in general, truly is. Walk through the arcades and take in the sights and scents of this seemingly endless marketplace. You might want to buy a signature cup of Melbourne coffee, dig into some freshly prepared food or simply smell the local fresh produce.
As a Travel at 60 reader, you can save an exclusive 10% off AAT Kings Guided Holidays to all of these areas – each offering the chance to savour delicious local produce and gourmet delights. Click here to learn more.  
What are some of your favourite gourmet destinations around the country? Let us know in the comments section below!