Australia's biggest cruise ship docks in Sydney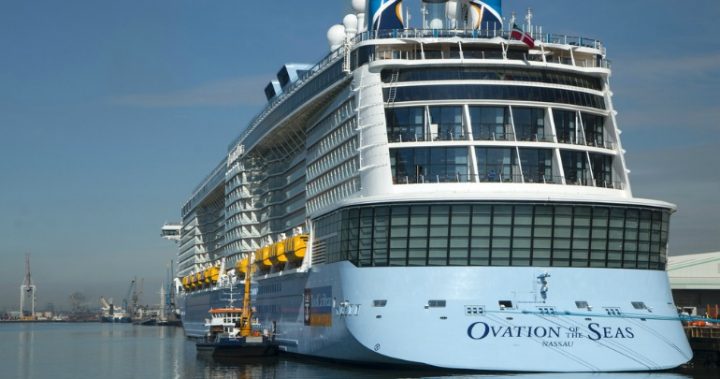 Spectators in Sydney were treated to the ultimate view this morning as the mammoth cruise ship Ovation of the Seas docked in Sydney for the first time.
The luxury ship draw a huge crowd as people watched the 167,800 tonne marvel sail through the morning mist and past the Harbour Bridge to dock at the Overseas Passenger Terminal at 5:30am.
So why all the fuss? Well the ship is the biggest to ever call Australia home and will remain at Sydney's Overseas Passenger Terminal in Circular Quay for its maiden 2016-17 Australian summer season.
On board are some of the wildest and most lavish features cruisers will ever come across, with 18 decks, skydiving, a Bionic Bar which is served by robot bar tenders; an observation capsule that rises more than 90 metres in the air; 18 restaurants including Jamie's Italian restaurant; and SeaPlex, a large indoor activity space which includes basketball, roller-skating and bumper cars.
If that's not enough to get your heart racing, it also has a massive theatre for movie watching and plenty of on-board entertainment to keep you dancing into the night.
Ad. Article continues below.
The ship is part of a new line of cruisers coming through that are all bigger and better than before. They sheer deck space on many of them is so huge that passengers often forget they're sailing over the ocean and feel more like they're just visiting a new city!
There's been a lot of hype around the Ovation ever since she set sail in Southampton, UK, on her maiden voyage earlier this year.
Aside from all the excitement surrounding the ship, there's been a little controversy with some people taking issue with the RSL clubs on board, saying they are tacky and disrespectful to veterans.
Ad. Article continues below.
Others have said that the ship's ability to carry nearly 5,000 passengers is a little too much for them and would make them feel crowded.
Those who have sailed on her though, say the Ovation feels more spacious than most cruise ships.
Traveller's national editor Anthony Dennis sailed from Singapore to Sydney aboard the liner and wrote a glowing review of the experience.
"True, Ovation of the Seas does have a whopping capacity for a total of nearly 5000 'guests' (Royal Caribbean's doesn't call them plain old 'passengers' any more) with the ship also hosting a further 1500 crew.
"You may, therefore, be surprised to learn that it's a lot less crowded than you think. Even when dining at Jamie Oliver's Jamie's Italian aboard the ship the restaurant was somehow only three-quarters full and there were few, if any, queues for casual food and coffee elsewhere."
Are you a fan of cruising? Have you been on a cruise holiday before? Would you ever want to take a trip on the Ovation of the Sea?