Aussie travellers left in the lurch again by Tigerair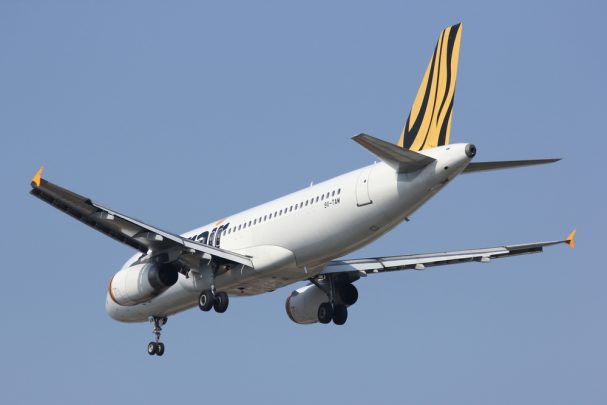 UPDATE: Tigerair has announced they will permanently stop flying between Australia and Bali, "effective immediately".
There's not much good news for travellers who've organised their Bali holidays with Tigerair, as more flights have been cancelled by the budget airline, leading to a permanent halt on flights.
Indonesian authorities have refused to allow Tigerair's flights between Australia and Bali and put a whole host of Aussie holiday-makers into a state of frustration and confusion.
The airline has since released a press release about rectifying the situation as soon as possible and apologised for any of the inconvenience cause via a statement published on their website.
"Tigerair will provide an update on its flights to and from Bali from Saturday, 4 February, onwards as soon as possible on Friday," the airline said.
Ad. Article continues below.
"Tigerair Australia sincerely apologises to affected customers for the inconvenience that this situation has caused and continues to work hard to minimize [sic] the inconvenience for all affected customers,"Tigerair said.
But angry passengers are taking their concern to social media, saying it's too little, too late.
"We're supposed to fly Saturday. I won't be packing until there's an update. If there's no flight there's no holiday for us," Lauren posted on Tigerair's Facebook forum.
Others are wondering why Tigerair had promised to resume flights even though a final agreement hadn't been made with the Indonesian government. 
"I believe that [Tigerair] didn't know precisely whether they would fly or not, but they cannot just keep people hanging," said Sharon. "If they had any balls at all, they would cancel all flights until they actually get the papers signed (or whatever they need to do). At least cancel a week or 2 in future."
Ad. Article continues below.
Single mother, George, has admitted that she will no longer be able to afford going on her long-awaited trip with her daughter.
"I was offered a refund back when it started but I can't afford other flights at double the original cost. I'm sure there's thousands of people in the same situation," George said.
"I'm a single mum with a part-time job. The cheap airfares meant that I could give my daughter an overseas holiday for her 18th. It's still possible we'll get to fly but with every cancellation it seems less likely."
"I know lots of people have rebooked at higher cost. They are angry about it, but for my situation, I can't afford new flights at double the cost. If Tiger don't fly then we just can't go."
Tigerair customers who were due to travel to Bali from Australia on the 3rd of February will be offered a refund, the airline's statement confirmed.
Ad. Article continues below.
The following flights have reportedly been affected:
TT1 MEL-DPS
TT17 ADL-DPS
TT19 PER-DPS
TT6 DPS-MEL
TT10 DPS-ADL
TT24 DPS-PER
If you're worried about your own travel plans, then get in touch with your travel insurer and find out exactly what you're covered for.
Have you been affected by the Tigerair flight cancellations? Let us know in the comments section below.