Argument breaks out on train between woman over 60 and mother carrying a baby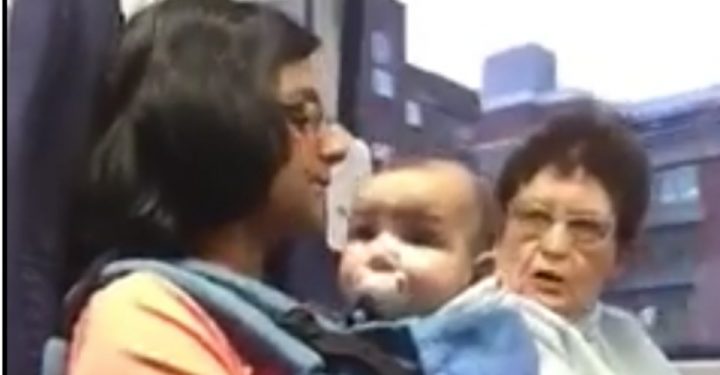 We've all seen the viral videos on social media of people behaving badly or fighting on buses and trains.
Now there's been another go viral, and this time it's dividing opinions about who is in the right.
If you've ever travelled first class on a plane or train, then you might be able to relate to this video, particularly if you've ever seen someone trying to sneak in without paying.
Read more: How to make an economy flight feel like first class
The video, taken on a British train, shows an argument between a woman over 60 and a mother with a baby.
Ad. Article continues below.
You might be wondering why the two women are fighting?
Well, it turns out the mother was looking for somewhere to sit with her baby and decided to sit in a first class seat without paying for it.
The mother sat next to the older woman, who began asking her why she was sitting there without paying.
"People have actually paid to sit in this class," the older woman said.
Seems like a fair point?
Ad. Article continues below.
Well, it gets more complicated.
The mother explained there were no seats available and because she had a baby she needed to sit.
The older woman argued that she didn't want a "screaming baby" next to her and said she had a "stinking cold".
She also told the mother to "respect her betters".
Ad. Article continues below.
The mother argued her baby was behaving better than the older woman, before passengers stepped in to help.
When one passenger asked why the mother was sitting in first class, she responded "I'm sorry for breathing your first class air".
So, how did it all end?
Well, in the end another passenger offered the mother a seat next to him.
"In all the years I've travelled in first class, I've never seen something like that," he told her.
Ad. Article continues below.
According to Southern Rail, the company who owns the train in the video, the first class carriage is for the first class passengers only.
"Passengers using priority seats in first class should still have a valid first class ticket unless first class has been declassified due to disruption," a spokesperson told The Mirror.