Airline's violent treatment of passenger sparks outrage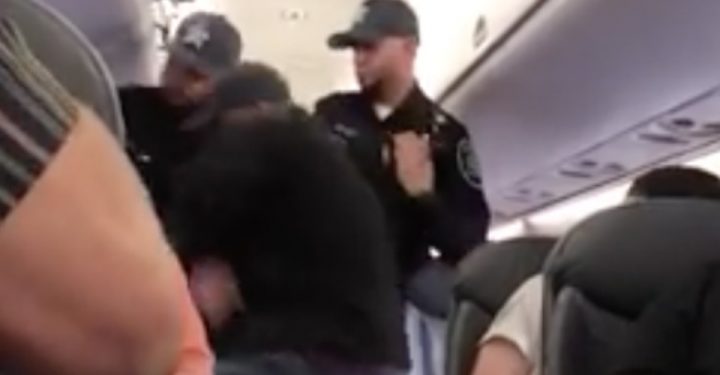 One of the world's biggest airlines is under fire after shocking footage of its treatment of a passenger went viral on social media.
Seeing footage from arrests or people behaving badly in planes is becoming commonplace in the news these days, but chances are you haven't seen anything quite as shocking as this.
The video shows police officers violently dragging a passenger off a United Airlines flight at Chicago's O'Hare Airport.
It was posted on social media by passenger Audra D. Bridges, who said the airline overbooked the flight and was selecting people to "kick off".
"This man is a doctor and has to be at the hospital in the morning," she wrote.
Ad. Article continues below.
"He did not want to get off. We are all shaky and so disgusted."
In the video, officers are seen grabbing the man as he screams – pulling him to the floor before dragging him up the aisle.
Passengers on the flight can be heard saying  "What are you doing?" "This is wrong," "Look at what you did to him" and "Busted his lip."
The CEO of United Airlines' parent company has responded to the video, with the airline posting a statement from him on social media.
"This is an upsetting event to all of us here at United," Oscar Munoz wrote.
Ad. Article continues below.
"I apologise for having to re-accommodate these customers. Our team is moving with a sense of urgency to work with the authorities and conduct our own detailed review of what happened."
United CEO response to United Express Flight 3411. pic.twitter.com/rF5gNIvVd0

— United (@united) April 10, 2017
Meanwhile the Associated Press reports that Munoz defended the actions of his employees in a letter to staff.
"Our employees followed established procedures for dealing with situations like this," he reportedly wrote.
Ad. Article continues below.
"While I deeply regret this situation arose, I also emphatically stand behind all of you, and I want to commend you for continuing to go above and beyond to ensure we fly right."
According to Munoz, passengers were asked people to give up their seats for four employees from a partnered airline and were offered up to $1000 in compensation.
But the ordeal didn't end after the man was dragged off the flight.
AP also reports that in another video, the man returned to the plane with blood on his face stating the he wanted to go home.
Again he was removed from the plane, at which point passengers began to leave and United ordered everyone to get off the plane.
Ad. Article continues below.
It took off three hours later, without the man on board.
The Chicago Police Department is also under fire over the incident.
It was forced to delete a tweet about the incident after Twitter users slammed them for their response.
"A 69-year-old male Asian airline passenger became irate after he was asked to disembark from a flight that was oversold," they wrote.
"The passenger in question began yelling to voice his displeasure at which point Aviation Police were summoned."
Ad. Article continues below.
The police department claimed the man "fell" and "struck an armrest causing injuries to his face".
He was taken to a local hospital with non life-threatening injuries, according to police.
You might be thinking that airlines surely couldn't be allowed to overbook and kick passengers off?
Well, it turns out they can.
AP reports that it is legal for an airline to demand a passenger to give up their seat, so long as they pay compensation equal to double the passenger's one way ticket – up to $675 (US) if they are placed on a flight within one to two hours – or four times up to $1350 if the delay is longer.
What do you think of the airline's actions? Was the reaction of the police excessive?