A new world-class attraction is coming to Queensland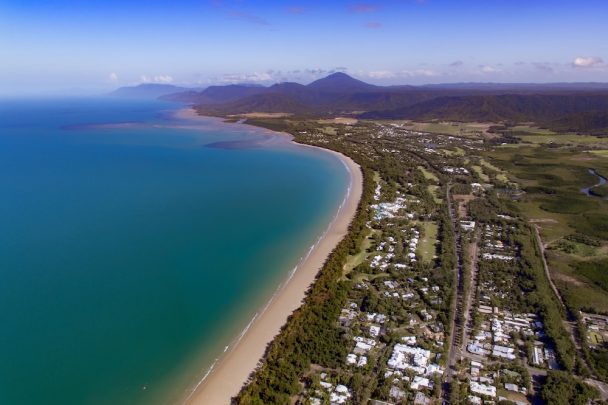 It's already home to the Great Barrier Reef, the Daintree Rainforest and the beautiful Whitsundays, but now travellers will have yet another reason to visit North Queensland – The Wangetti Trail.
Cairns Regional Council has just announced it will allocate $50,000 in the upcoming 2017-2018 Budget towards the next stage of feasibility development, with the Cairns Regional Council throwing support behind the project.
The Wangetti Trail will be a shared walking and mountain biking space stretching 76km along the oceanfront from Palm Cove to Port Douglas. It's expected that 28,000 people will use the trail annually.
Read more: Things to do on the Great Barrier Reef if you don't want to get in the water
World Trail produced the concept plan for the Wangetti Trail, stating the new track will "showcase the region's diverse range of terrain and vegetation, as well as giving users spectacular views of the emerald coastline and the Great Barrier Reef."
Ad. Article continues below.
Watch World Trail's video on the Wangetti Trail below.
Cairns Regional Council will be working with the Douglas Shire Council on the project, and Cairns Regional Council Mayor Bob Manning says their alliance, as well as the allocation of funding in the budget, is a huge milestone for the project's development.
"Tropical North Queensland is becoming identified more and more as a destination for adventure, eco and active leisure travellers," Cr Manning says.
"We see great promise in this project, even though we are in the very early days of its development. It will be an iconic feature of our spectacular coastline."
Ad. Article continues below.
Read more: Ellis Beach – North Queensland's best kept secret
The government expects the trail will bring in $10.4 million annually to the region. The cost of building the trail is estimated at $21.5 million, resulting in 74 additional jobs, and maintenance costs are expected to be $500,000 to $1 million per year.
Various accommodation options are proposed along the walking trail as well, such as huts at overnight campsites. The government anticipates the cost of these accommodations will offset the yearly maintenance expenses.
What do you the new project? Let us know in the comments below.