A minke whale experience like no other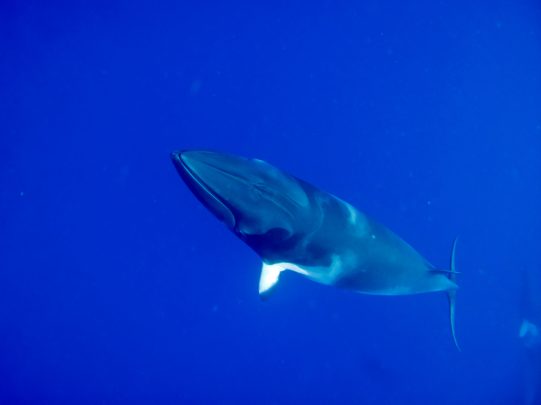 I still remember seeing my first ever minke whale underwater. It appeared just on the edge of my visibility and I could make out a large sleek shape.
It seemed to just hover effortlessly while also coming closer. As I hung on to the rope on the surface of the water, the minke whale slowly passed beneath me, just metres away, all the while looking at me eye to eye.
An overwhelming sense of joy came over me as the interaction I just had was by far the best I had experienced in the animal kingdom.
Here was an eight tonne, 7m whale coming to see me. The best bit, though, was that I stayed in the water and played with these whales for the next four hours!!
Read more: 20 things you didn't know about dwarf minke whales
Ad. Article continues below.
I have been working with minke whales since 2001 and have never missed a season. In that time I have spent hundreds of hours in the water with them in what is now considered the best wildlife experience of Earth, filming them for research and documentaries.
You can never be bored with the whales because they are always doing something different and they genuinely are very curious of people. We can have up to 50 whales interact with us for 10 hours at a time.
This experience is so good that it featured in the last Sir David Attenborough documentary, and I filmed for this special over two years to get the very best of the whales behaviour. 
This year I am once again filming the whales for the BBC and we have two spots available on a special expedition for 6 days on the Great Barrier Reef for two lucky people. Follow this link for your chance to win a trip to experience the whales for yourself, help the Great Barrier Reef AND be part of the documentary. 
Have you seen the minke whales in the wild? Let us know about your own experiences in the comments section below.