Famous millionaire refuses to allow own children to fly first class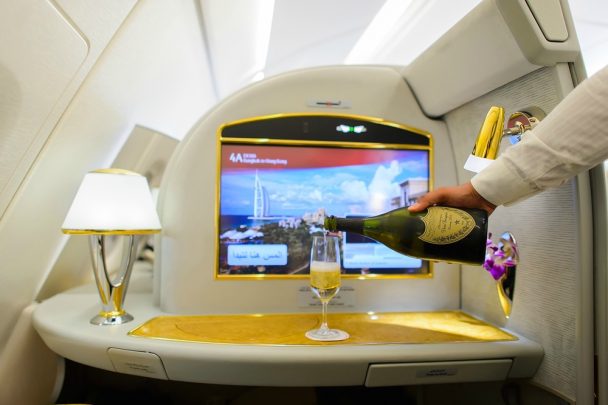 Gordon Ramsay has no qualms about keeping his four children grounded – literally. 
While many celebrity parents allow their offspring to sit in first class with them, Ramsay and his wife Tana decided long ago that none of the children would be enjoying that extra leg room.
"They don't sit with us in first class," he told The Mirror.
"They haven't worked anywhere near hard enough to afford that…I worked my f—ing arse off to sit that close to the pilot and you appreciate it more when you've grafted for it."
While Megan, 18, Jack and Holly, 17, and Matilda, 15, are evidently allowed iPads, Ramsay said: "I have got to keep it real with the kids, and also I think just getting kids at the age of five, six, and seven, used to first class and those big seats – they do not need the space.
Ad. Article continues below.
"I do not want them sat there with a 10-course f—ing menu with champagne.
"I am not embarrassed. It is my wife and I's choice to discipline them and to keep them real."
Despite being worth an estimated $51 million Ramsay also doesn't allow his teenage children to eat in any of his restaurants, including the Michelin-starred ones. 
"Last time we went to Royal Hospital Road (his restaurant in Chelsea) was for Megan's 16th birthday and that was the first time we've ever eaten there with the kids," he said. 
"They have served Chelsea pensioners there for Christmas lunch but not eaten there."
Ad. Article continues below.
The TV chef defended his and his wife's decision to ensure their children understood the value of hard-earned cash.
"It's (his fortune) definitely not going to them, and that's not in a mean way; it's to not spoil them," he told The Telegraph.
Ramsay explained his children would only be given a 25 per cent deposit on a flat as he thinks they should work "work hard" for their money.
His youngest daughter Tilly has her own cooking show "Matilda and the Ramsay Bunch", while Jack hopes to become a Marine, and Holly is interested in fashion and works part-time in a shop. 
The oldest Ramsay, Megan is a philosophy student who babysits to earn cash. 
Ad. Article continues below.
This isn't the first time Ramsay has hammered home his point about his children having a "work ethic" – during a Reddit discussion two months ago, he made mention of it. 
His commitment to raising responsible young adults most likely comes from his humble upbringings. 
Born in Scotland to a "violent alcoholic father" who was a newsagent, swimming instructor and welder; his mum Helen was a nurse.
Ramsay has been married to wife Tana since 1996. 
If you were this loaded would you let your children ride up front with you?