9 of the most photogenic places in New Zealand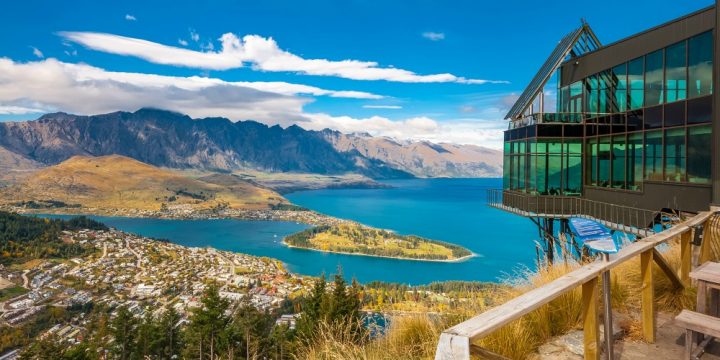 Many of us love to take photos on our travels, after all they help us remember our trip and all the great memories along the way. New Zealand is definitely one of those countries you should visit if you want to take some excellent photos. Let's just say your camera will certainly get a work out on your travels!
From stunning panorama views of lakes and mountains, to natural wonders such as glow worms and geysers, here are 10 of the most photogenic places in New Zealand.
Read more: See the best New Zealand has to offer
1. Queenstown
Ad. Article continues below.
Of course when you think of photogenic places in New Zealand, Queenstown is one of the first that comes to mind. Whether you want to take photos of the stunning Lake Wakatipu or capture a gorgeous panorama of the mountain backdrops, there's no shortage of fantastic photos you can capture. If you have a Go Pro, and you're an adrenaline junkie, then you could always take some photos while you bungee jump, paraglide or jet boat at Queenstown. You can experience the best of New Zealand, including Queenstown with the New Zealand Splendour Guided Tour.
Ad. Article continues below.
2. Lake Taupo
If you're travelling to the North Island, you might want to stop in to Lake Taupo and take some amazing photos. The gorgeous blue lake is surrounded by some of the best scenery New Zealand has to offer. Whether you want to take some snaps from the shores of the lake,  take hike to the Huka Falls or take photos from your kayak as your tour the lake's rock carvings, you'll be able to get some unforgettable photos of your adventures at Lake Taupo.
Ad. Article continues below.
3. Mt Ruapehu
Ad. Article continues below.
Not far from Lake Taupo, likes Mt Ruapehu. If you're a Lord of the Rings fan, you might recognise Mt Ruapehu as Mt Doom. It was one of the many locations used for filming of the popular movie trilogy, which makes it the perfect backdrop for your New Zealand holiday photos. If you want close up photos, there are hiking trails through the Tongariro National Park that will get you up close for photos. There are so much craters, lakes and mountains surrounding the volcano that are perfect for photos.
Ad. Article continues below.
4. Hobbiton Movie Set
While we're on the subject of Lord of the Rings, if you're a fan there is definitely one place you want to go and get a photo – and that is the Hobbiton Movie Set. Located near Matamata on New Zealand's North Island, the Hobbiton Movie Set transports you to the world of  Middle Earth. You'll be able to take photos outside Hobbit holes and explore the green hills and peaceful serenity of the surrounding area, just as it appeared in the movies. There are plenty of photo opportunities for you to remember your New Zealand holiday at the Hobbiton Movie Set.
Ad. Article continues below.
5. Lake Tekapo
Ad. Article continues below.
Just like Lake Taupo, Lake Tekapo on the South Island is another great destination to give your photography skills a work out. The beautiful waters of the lake, the mountain scenery and the Tekapo Springs make for great photos. But if you're up for a photography challenge, Lake Tekapo has been described as one of the best places in the world to stargaze. Take a trip up to the Mt John Observatory, take a tour and put your star photography skills to the test. Why not hop on a bike and cycle around the town to find the best vantage points for photography? After all, Lake Tekapo is only a small town of around 400 people!
Ad. Article continues below.
6. Bay of Islands
Who doesn't love ocean views? Well, in The Bay of Islands you can take photos of the great blue sea, groups of scenic little islands and gorgeous beaches. It's a change from the scenery of some of the other destinations on this list. While you're in The Bay of Islands, you can take a dolphin safari giving you the opportunity to get some great photos of dolphins and other sea life. You can also take a drive four hours north, where you'll find Cape Reinga and it's big sand dunes and Giant Kauri trees to photograph.
Ad. Article continues below.
7. Rotorua
Ad. Article continues below.
One of the most infamous destinations in New Zealand is the town of Rotorua, which like Queenstown, sits alongside a lake (Lake Rotorua). While the lake is an excellent opportunity to get some great holiday snaps, it's the bubbling mud pools and the Pohtu Geyser in the Whakarewarewa Valley that are the perfect place to get some fantastic photos! Aside from that, Rotorua is also home to a Maori Village and wood carving and weaving schools – giving you plenty of photographic opportunities of New Zealand's Maori culture. You can experience Rotorua with this Northern Spotlight Guided Holiday.
Ad. Article continues below.
8. Franz Josef Glacier
On New Zealand's South Island you'll find the magnificent Franz Josef Glacier. The glacier offers some fantastic photographic views of snow capped mountains, the icy glacier and the spectacular surrounding scenery. Whether you're taking aerial shots from a helicopter or hiking around the glacier itself, there are plenty of fantastic photo opportunities at Franz Josef Glacier. There are also hot pools, lakes, waterfalls and rivers to explore and photograph.
Ad. Article continues below.
9. Milford Sound
Ad. Article continues below.
Milford Sound has been famed as one of the most famous destinations in New Zealand – and as such, it has some of the best and most photogenic scenery in New Zealand. With spectacular mountain scenery, lakes, rivers, waterfalls and rainforest, Milford Sound is an impressive place to visit and photograph. If you want to get a great river view of Milford Sound, there are boat cruises run by tour companies that take in all the sites and offer plenty of photographic opportunities.
Have you visited any of these destinations before? Which one was your favourite?