7 unique adventures you can only have in Ireland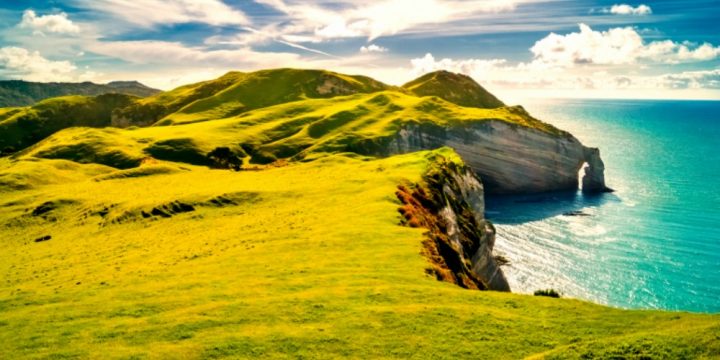 If St Patrick's Day celebrations have given you some inspiration to visit the Emerald Isle, then you're not alone. Each year hundreds of thousands of Aussies make the trip to Ireland. While many of them go to visit family, there are plenty of us who visit Ireland for the unique experiences and sights the country has to offer.
From vast fields of green to historic castles, Ireland has plenty for you to see and do. They might not feature four leaf clovers or leprechauns, but these 10 unique adventures will give you plenty of inspiration to make the trip to Ireland.
Read more: The Beauty of Ireland: Staying in a 13th century castle
1. Seaweed baths
Ad. Article continues below.
If you're looking for a bit of relaxation or want to have a spa day on your Irish holiday, then seaweed baths are the way to go. They might not be entirely unique to Ireland, but they've certainly been made famous here. While soaking in a bath tub full of seaweed might not sound appealing to some, it actually has a lot of health benefits. Apparently, it leaves you feeling relaxed and rejuvenated – and it'll make your skin and hair feel soft, too.
Ad. Article continues below.
2. Phoenix Park
Every major city in the world has a park, but Phoenix Park is Dublin is certainly a stand out, and it's a must see for your visit to Ireland. What makes it so unique is not only the fact it's the largest park in any major European city, it's also home to a wild herd of more than 400 deer. You can get quite close to the wild deer in Phoenix Park, and if you're lucky you might even get a pat or a good photo with one! The seven-square kilometre park is also home to the Dublin Zoo, lakes, forests, gardens, a 62m-tall obelisk called The Wellington Monument, the medieval Ashtown Castle and the 35m-tall Papal Cross.
Ad. Article continues below.
3. Cliffs of Moher
Ad. Article continues below.
There might be cliffs on coastlines around the world, but Ireland's Cliffs of Moher are something else. Reaching hundreds of metres above the Atlantic Ocean, these cliffs on the south-west of Ireland are of the most iconic and popular tourist destinations in the country. Where else could you find vast green country that ends in steep rocky cliffs over the edge? They're truly breathtaking and a photographer's dream! You can explore them from the land (just watch you step), or you can enjoy a cruise around the bottom of the area. Rising above the cliffs is the 19th century O'Brien's Tower, where you can get a great view of the area and out to the ocean.
Ad. Article continues below.
4. Have a drink at an Irish pub
There are Irish pubs all around the world, but nothing compares to the real thing! An Irish pub in Ireland is a must-do on your bucket list, and there's no shortage of quirky, fun and very traditional pubs to visit. If you're looking for love or something really quirky, then you could visit The Matchmaker Pub in Lisdoonvarna during The Matchmaker Festival — Ireland's oldest festival. It's famous for having matched many husbands and wives. If you're in the mood for a bit of Irish music, singing and dancing, then McDermott's Pub in Doolin could be the place for you. It's world famous for its music.
Ad. Article continues below.
5. Magic Roads
Ad. Article continues below.
If you're looking for something truly unique, then one Ireland's magic roads would be a treat. While they're not unique to Ireland, chances are you've never experienced something like it. So, what is a magic road? Well, unlike a normal hill road where you'd let off your handbrake and roll forward, a magic road makes you feel as if you're rolling backwards up hill! It's all an optical illusion of course, but it's definitely an amazing experience. The most popular magic roads are near the Mahon Falls in the Commeragh Mountains and near the town of Dundalk. Watch the video below and see for yourself.
6. Skellig Michael
Ad. Article continues below.
One of Ireland's most sacred sites is Skellig Michael. If you're a Star Wars fan, it'll look familiar. The island — home to an 8th century monastery, which includes old stone huts (beehive cells) and a long set of stone stairs — featured in the closing scene of Star Wars: The Force Awakens. It's a very secluded and sacred site, lying off the south-west coast of Ireland. With breathtaking views and the ancient structures, it's certainly something you have to see when you're in Ireland. Skellig Michael is also home to thousands of migratory birds including puffins and storm petrels.
Ad. Article continues below.
7. Tombs
https://www.instagram.com/p/BRj3O3_AXso/?tagged=portaltomb&hl=en
Ireland is home to hundreds of tombs of many different varieties, some of which are many thousands of years old. The megalithic tombs also known as portal tombs, dolmen and wedge tombs, are scattered throughout the country. One of the best places to see these ancient burial sites is Cavan Burren Park, which is home to Poulnabrone dolmen – one of the most iconic tombs. More than 20 people are buried in this iconic tomb! Hundreds of thousands of people visit Ireland's tombs each year, making them a popular and unique tourist attraction for you to visit.
Have you ever been to Ireland? Did you see or do any of these things? Let us know in the comments section below.