7 Things to do in New Caledonia if you love history and culture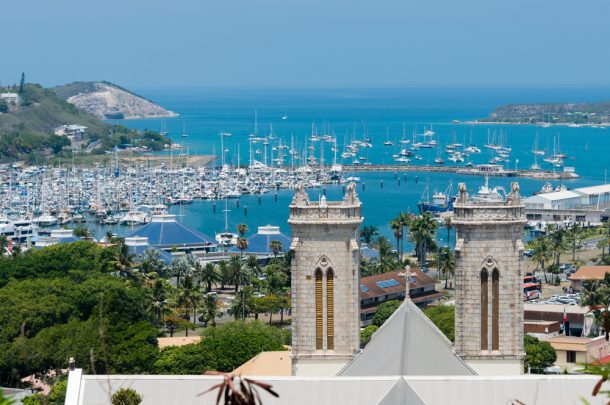 If you want to combine a European getaway with a tropical paradise, but don't actually want to fly all the way to Europe, then New Caledonia should be high on your list of places to visit.
A hidden gem in the South Pacific, New Caledonia is a place where Parisian history meets Pacific charm. It's where colonial history comes alive and where traditional culture has been thoughtfully maintained.
Read more: Check New Caledonia off your bucket list here
Nouvelle- Calédonie, as it is known in French, is located approximately 1,200km off the east coast of Australia, but is actually a French overseas territory. In 1953, French citizenship became available to New Caledonians, regardless of their ethnic background, and it's this interesting cultural history that makes New Caledonia so much more than just an island paradise.
Here are just a few of the sites worth visiting if you want to experience the local history and culture while visiting the island.
Ad. Article continues below.
1. Amedée Lighthouse
Located on Amedée Island, the metal lighthouse is 56m tall, one of the largest lighthouses in the world, and was actually built in Paris. It was then taken down and had to be shipped to New Caledonia in 1,265 pieces. The lighthouse was commissioned by the French in 1861 because so many ships were being destroyed in the area and was first put to good use in 1865. A replica lights the way in the Roches-sur-Douvres Channel in France.
Ad. Article continues below.
2. Isle of Pines
This area of New Caledonia received its name from Captain Cook because of the many tall native pines found on the island. In 1872 the island became a French penal colony and was made home to more than 3,000 people from Paris. There are still remains from those days with a water tower, which was built by the prisoners in 1874, still standing in the village of Ouro.
Ad. Article continues below.
3. Notre Dame de Lourdes
The small chapel of Notre Dame de Lourdes was built by the Catholic missionaries who arrived in New Caledonia in the 1850s. The chapel was later built in 1898 in commemoration of their arrival. It's a small church, and there is a short hike up a hill to get there, but the view is absolutely stunning at the top.
Ad. Article continues below.
4. Noumea Morning Market
If you'd love to get some insight into how the locals live their everyday lives, then you cannot go past the Noumea Markets. Here you can purchase some local fruits, buy some souvenirs, or listen to the local Kanak people playing music.
5. The museums of New Caledonia
Ad. Article continues below.
There are several museums in New Caledonia that provide great information about the history and culture of the island. There is the Maritime Museum and the Musée de Nouvelle Calédonie, just to name a couple.
6. Fort Teremba
Ad. Article continues below.
Built in 1871, the Fort Teremba was once a prison that was created during New Caledonia's time as a French penal colony. In 1871 there were just 25 convicts on the island, but by 1871 it had grown into a community and was extended to feature more buildings including a school and a bakery.
7. Jean-Marie Tjibaou Cultural Centre
While New Caledonia's history is in part influenced by the French, they also have a very long and strong traditional culture that has managed to survive despite this influence. The Jean-Marie Tjibaou Cultural Centre is a celebration of the indigenous Kanak people and the building itself was also built in commemoration of the traditional Kanak architecture.
Have you explored the history and culture of New Caledonia? Let us know all about it.