7 of the most stunning overwater bungalows in the world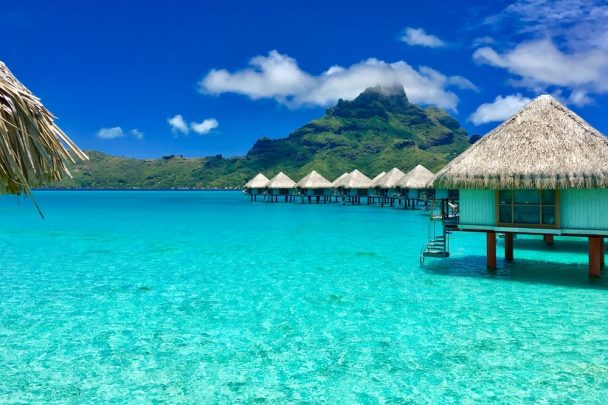 Introduced to the South Pacific only a few decades ago, the overwater bungalow has become one of the most sought-after accommodation options for travellers looking for unsurpassed views, seclusion, relaxation and activity at their doorsteps. While they look like they can only be afforded by the rich and famous, you would be surprised how accessible they really are. Here are seven of the most beautiful overwater bungalows in the world that will tempt you to dive right in and tick an overwater bungalow stay off your bucket list.
1. Fiji Marriott Resort Momi Bay, Fiji
Recently opened, this resort is tucked away in a pristine and untouched part of Fiji. It's the only resort that has overwater bungalows on Fiji's mainland and being new, you can expect the best of modern amenities.
Ad. Article continues below.
Related deal: 10-night Fijian islands cruise and Momi Bay fly, stay and cruise package
2.Coco Bodu Hithi Water Residences, Maldives
If you don't feel like a swim in the ocean, never fear – in the Maldives you can take a dip in your own private pool that overlooks the ocean. The Maldives are home to more overwater bungalows than anywhere else in the world, with more than 80 private island resorts in the island country.
Ad. Article continues below.
Read more: How to choose the right South Pacific island for you
3. Aitutaki Lagoon Resort and Spa, Cook Islands
One of the most revered holiday hotspots in the South Pacific, Aitutaki Lagoon Resort and Spa is the only private island resort in the Cook Islands. A 45-minute flight from Rarotonga, you'll feel adrift in the middle of the peaceful South Seas, situated on one of the bluest lagoons on earth.
Ad. Article continues below.
Related deal: 6 nights in a Cook Islands overwater bungalow plus flights and breakfasts!
4. Constance Moofushi U Spa, Maldives
Well, this looks like as good a place as any to have breakfast! The architecture of the overwater bungalows at Contance Moofushi gives nods to the heritage and culture of the Maldives, mixed with modern-day luxury. 
Ad. Article continues below.
5. Bora Bora Pearl Beach, Tahiti
https://www.instagram.com/p/BQzUf-SgLTd/The scenery at Bora Bora Pearl Beach is hard to top. With huge mountains in the background and crystal-clear waters below you, on holiday here every moment is postcard-worthy. Pictured below is a lucky travellers' breakfast arriving. 
Read more: Cultural experiences you can only have in the Pacific
6. Pangkor Laut Resort, Malaysia
Ad. Article continues below.
On a remote island off the coast of Malaysia and surrounded by lush, verdant mountains and forests, a stay in an overwater bungalow at Pangkor Laut makes for a secluded getaway with all the excitement of a resort. There are half a dozen restaurants and bars to choose from, as well as wellness treatments, birdwatching opportunities and water activities aplenty.
Ad. Article continues below.
7. Conrad Bora Bora Nui, French Polynesia
Forget an overwater bungalow – how about an overwater house? This stunning resort in French Polynesia offers visitors the option to stay in not only overwater bungalows but overwater villas, including the hugely impressive Presidential Villa pictured below.
Which is your dream overwater bungalow? Let us know in the comments below.