7 holiday spots that will bring you good luck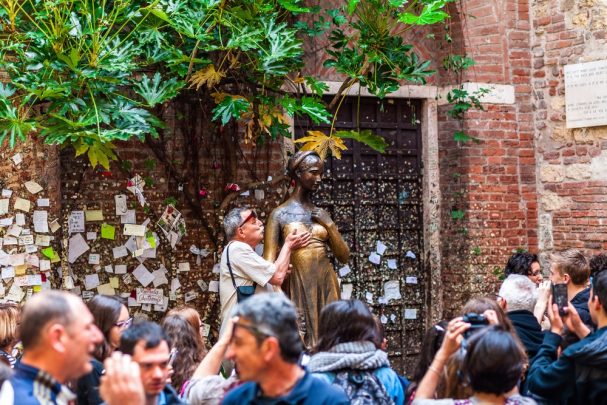 Four leaf clovers, horseshoes, the number seven and ladybugs – these are all things that have been heralded as lucky charms, but for those who are a little more down on their luck than most, perhaps a trip to one of these holiday spots is in order. From rubbing bronze breasts to crawling through tiny holes, these lucky rituals from around the globe will leave you not only feeling cosmically realigned but having a laugh as well. 
1. The Blarney Stone, Ireland
Ad. Article continues below.
Laying a kiss on the Blarney Stone is a tradition that dates back to the 15th century. Apparently, the builder of the Blarney Castle appealed to a goddess for assistance when he became involved in a lawsuit and she instructed him to kiss the first stone he found on his way to court. It gave him the "gift of the gab" and he managed to plead his case eloquently.
2. Statue of Juliet, Verona, Italy
Ad. Article continues below.
It's said that rubbing the right breast of the Statue of Juliet (of Romeo and Juliet) at Juliet's house in Verona will bring the person good fortune. The practice of rubbing Juliet's breast became so popular that a replica was commissioned to preserve the original.
Read more: Why a nun was the highlight of my trip to Florence
3. The Trevi Fountain, Rome, Italy
Ad. Article continues below.
More than 3,000 euros are tossed into the Trevi Fountain in Rome each day, a tradition that is said to ring good luck so long as you toss it over your shoulder. The Trevi Fountain is one of the most popular fountains in the world, featuring in several notable movies.
4. The Weeping Column, Istanbul
Ad. Article continues below.
The column inside the Hagia Sophia is said to weep holy water. Visitors to the site stick their thumb into the column and if it comes out wet, their wish will be granted. Throughout the centuries, it's said to have cured blindness, infertility and everything in between.
5. Schoner Brunnen, Nuremberg, Germany
Ad. Article continues below.
Schoner Brunnen is a magnificent fountain located in Nuremberg's old city in the main market square. While visitors may be taken aback by how decorative the fountain is, those in the know will be aware of the brass rings embedded on the gate surrounding the fountain that are said to bring luck to those who spin them.
Read more: Germany's most spectacular castles
6. Victor Noir's Grave, Paris, France
Ad. Article continues below.
Victor Noir was a French journalist who died in a duel with Pierre Bonaparte. His grave is in the famous Pere Lachaise Cemetery and features a life-sized relic of him. The relic is, how do we put this, well-endowed and is said to increase fertility if the crotch is rubbed.
7. The Lucky Pillar at Todaiji Temple, Nara, Japan
Ad. Article continues below.
The Daibutsuden Hall, or Big Buddha Hall at Todaiji Temple, is home to one of Japan's largest bronze statues. There is a pillar in the hall that has a hole at its base, which is said to be the same size as the Buddha's nostril. It's said that those who crawl through the tiny hole will be granted enlightenment in their next life.
Have you had a lucky experience when on holiday? Tell us about it in the comments.