5 Things to do during a Byron Bay summer holiday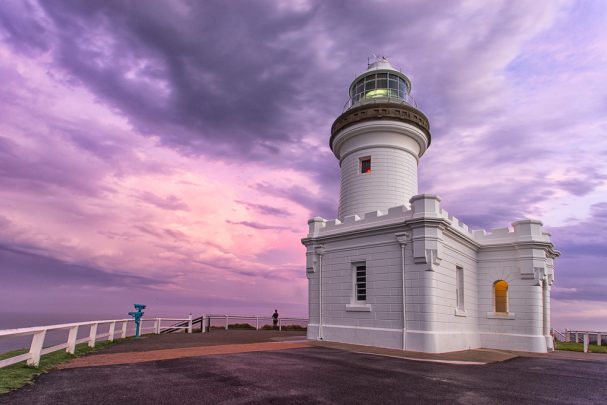 There are certain places around Australia that are synonymous with magical holiday experiences. One of those such destinations has got to be Byron Bay. It's one of the most popular coastal towns around the country, but it still manages to maintain its close-knit community vibe and sleepy town feel. If you're heading to Byron Bay during the holiday season this year, then here are a handful of things that you simply must try while you're there.
Read more: Click here to add Byron Bay to your bucket list
1. Crystal Castle
Ad. Article continues below.
This stunning set of gardens and rainforests are the home of Crystal Castle and the biggest crystals in the world. Head along, take a walk through the Shambhala Gardens and touch the World Peace Stupa, which has been blessed by the Dalai Lama himself. This is a great place to escape the crowds and get your relaxed vibes flowing during the busy holiday period.
2. Byron Bay Lighthouse Walk
Ad. Article continues below.
If your legs are feeling up to it, there is a beautiful walk out to the top of the Cape Byron Bay Lighthouse. Not only will you see some spectacular views of the Pacific Ocean, but this is also the most easterly point on the Australian mainland. There's a café at the top if you want to savour the moment for a little while longer.
3. Wategos Beach
Ad. Article continues below.
While you're out at the Lighthouse, you might want to stop by popular beach spot, Wategos Beach. There are walking tracks around and you might just see a whale breaching from the shore. Lie out your towel, slop on some sunscreen and enjoy a day out in the sun.
4. Byron Bay Markets
Ad. Article continues below.
There are a whole bunch of beautiful markets held throughout Byron Bay. There's the Bangalow Markets held at the local showgrounds, the Byron Community Market and the Byron Beachside Markets which are held four times a year on the Main Beach foreshore.
5. Byron Bay Hinterland drives
Jump in the car and head through the Byron Bay Hinterland, not only is the drive spectacularly scenic but the stop-off points are the perfect places to while away a relaxing summer holiday afternoon. Don't miss a day trip to the Minyon Falls, a 100m cliff that was once part of a volcano.
What are some of your favourite things to do during a holiday in Byron Bay? Let us know in the comments section below.