5 reasons to visit the Daintree Rainforest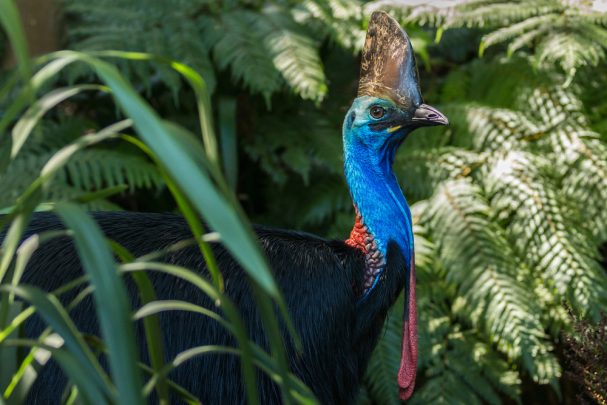 At more than a 100 million years old, the Daintree Rainforest is regarded as one of the oldest rainforests in the world. From fine dining to canopy tours, we've rounded up five (very important) reasons why you should visit the tropical rainforest wilderness in Far North Queensland.
1. Daintree Animals
Ad. Article continues below.
The Daintree Rainforest is home to loads of endangered plants and animals. If you're lucky, on your trip to the Daintree you may come across the iconic (and odd looking) Cassowary. This rare, endangered and flightless bird stands at approximately 1.75 metres high.
2. Daintree Flora
Some say that the Daintree Rainforest is like a time capsule of earth's evolution. Why? Because it contains some of the most ancient ferns and flowering plants on the planet. An example would be the Idiospermum Australiense, or Idiot Fruit Tree, which is a very old flowering plant that is found ONLY in the Daintree Rainforest.
3. Daintree Activities
There are heaps of awesome activities to try such as the Jungle Surfing Canopy Tours, which allows you to see the rainforest's beauty through and over treetops. If you're a night owl, grab a torch and go for a night walk – a perfect opportunity to see creatures that cannot be seen during daylight.
4. Daintree Accommodation
What better way to truly immerse yourself in the amazing Daintree Rainforest than by sleeping amongst the treetops in a private luxury tree house? The Daintree Eco Lodge has 15 'bayans' (treehouses) that are all completely private with fully screened balconies. Spend your days exploring and your afternoons relaxing in the Daintree Wellness Day Spa which offers a range of therapeutic and restorative treatments for in-house guests.
5. Daintree Food
Also located within the The Daintree Eco Lodge is an award-winning restaurant serving contemporary Australian cuisine with a native twist. Julaymba Restaurant & Gallery has balcony terrace overlooking the peaceful fresh water lagoon and is accessible via elevated boardwalks through the lush rainforest. Dishes include pork belly served with peach puree, five spiced duck breast and pan-fried barramundi served on linguini noodles and a tropical salsa.
Have you been to the Daintree Rainforest? What do you love about this part of Queensland? Let us know in the comments section below. 
This article was originally posted on 7travel.com.au as "Five reasons to visit the Daintree Rainforest".