13 Things to do for free in South Australia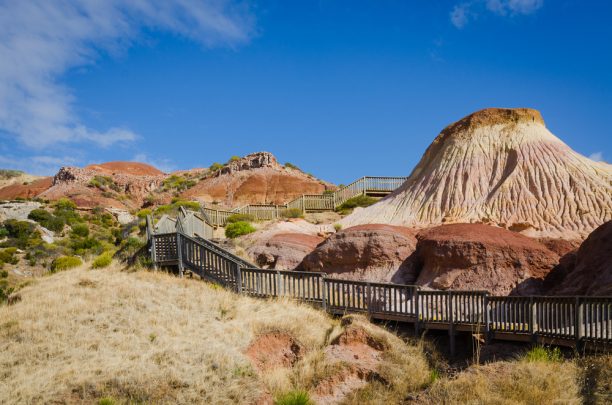 Travelling around Australia doesn't have to be expensive, and if you want to explore South Australia, but want to do it on a budget, then here are 13 things to see and do in the state that are absolutely free.
Read more: How to get cheap drinks on a cruise
1. South Australian Museum
Ad. Article continues below.
Open every day from 10am until 5pm the South Australian Museum in the heart of the city of Adelaide is free. Exhibitions include military artefacts, indigenous art, photography and natural and cultural heritage items.
2. Adelaide Botanic Gardens
Ad. Article continues below.
A beautiful public garden right in the city of Adelaide, the Botanic Gardens is a great place to meander through on a lazy afternoon. More than 1.8 million people visit the gardens each year, and for good reason. It's an educational garden as well as a beautiful one, with the grounds becoming a way to educate people about the importance of plants.
3. Adelaide Central Market
Ad. Article continues below.
Established way back in 1869, the Adelaide Central Markets are an icon in the city and you don't need to spend a cent to lap up the atmosphere. There are more than 80 stallholders who sell everything from baked goods to cheese, seafood to veggies. And, of course, there are a variety of cafes around to take your pick from.
4. Glenelg
Ad. Article continues below.
You might have to spend a bit of loose change to get to Glenelg, but you can easily visit this charming seaside town without paying a cent, if you really don't want to. But the coastal cafes will surely try to entice you to do otherwise.
5. Hahndorf
Up in the Adelaide Hills, around a half an hour drive from Adelaide's city centre, is Australia's oldest surviving German settlement, Hahndorf. You could easily walk around this charming small town, gazing into the windows of the stores and buildings, looking up at the huge Clydesdale horses and simply taking in the crisp country air, without spending anything.
Ad. Article continues below.
6. Port River dolphins
Known for its maritime history, Port Adelaide is just a 20-minute drive from Adelaide, but is a popular tourist destination for those looking to catch a glimpse of the wild dolphins in the area. Signs have been positioned along the beach, sharing information about where and which dolphins can be seen.
7. Adelaide's free bike tours
Ad. Article continues below.
If you want to see as much of Adelaide's city centre as possible, but are short on time, then there is the option to jump on one of the city's free bike tours. Not only is it a free way to see the city, but surely one of the most fun ways, too.
8. City connector bus service
Ad. Article continues below.
If riding a bike around Adelaide sounds about as fun as passing a kidney stone, then the free city bus service is what you're after. The bus runs on two loops, one through the inner city areas and the second through North Adelaide, close to popular shopping and dining precincts.
9. Mount Lofty
Ad. Article continues below.
Adelaide's highest peak, Mount Lofty, is a popular destination for locals and out-of-towners who love to hike. Best to go during the week if you want to avoid the crowds, though. 
10. Whispering Wall, Barossa Valley
Built between 1900 and 1903, the Whispering Wall near the Barossa Valley is an engineering feat. Once considered one of the highest dam walls in the country, a person can stand on one side of the wall and actually hear a whisper spoken at the other end, about 140 metres away.
Ad. Article continues below.
11. Riesling Trail, Clare Valley
Making its way through the Clare Valley wine region, the Riesling Trail is one of the first railway lines in South Australia. Now it's a trail that can be walked, hiked or cycled through, and runs between the towns of Auburn and Clare in the north of Adelaide.
12. Hallett Cove Conservation Park
Ad. Article continues below.
One of the most well-known geological sites in Australia, Hallett Cove is where more than 1,700 aboriginal artefacts have been discovered. Evidence of an Australian ice age more than 280 million years ago was also discovered here. Bring your swimmers if you visit in summer, too, because there are popular swimming beaches here, as well.
13. Haigh's Chocolate Factory
Ad. Article continues below.
Considered to be one of Australia's biggest chocolate shops, it will be difficult to pay a visit to Haigh's Chocolate Factory without spending a dollar, but you can always take advantage of the free samples.
Are there any other places you can visit in South Australia for free? Let us know your tips in the comments section below.