10 of the best bird watching spots in Australia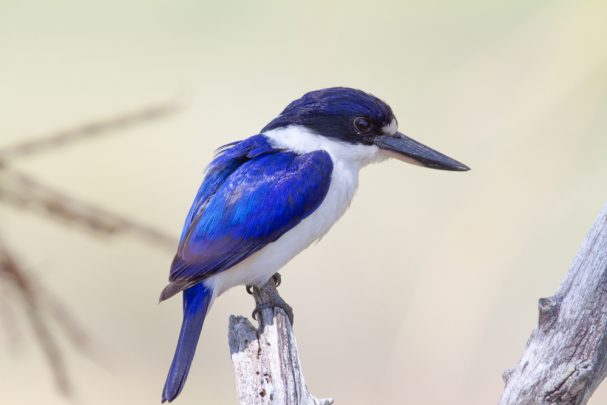 The great great thing about bird watching in Australia is you don't have to go far to do it – birds are absolutely everywhere. So,whether you're in your own backyard or doing bird calls in remote bushland, birdwatching is a fun and exciting hobby that is accessible to everyone.
But if you want to take your avian affairs a little more seriously, then here are some of the best bird watching spots around the country, according to BirdLife authors Peter Menkhorst and Rohan Clarke behind the CSIRO Publishing guide to Australian birdlife, The Australian Bird Guide.
The Australian Bird Guide is the most up-to-date and comprehensive field guide of Australian birds ever seen, featuring well over 4,700 specially commissioned paintings of more than 900 species. Here are just some of the sites and the beautiful birds to be seen around the country, according to a couple of serious bird lovers.
Read more: Great Australian adventures for animal lovers
1. Mitchell Plateau, Western Australia
Ad. Article continues below.
Mitchell Plateau in Western Australia is a must-visit region for any serious off-roader who chooses to drive the Gibb River Road. There are spectacular gorges, freshwater plunge pools and swimming pools that are free from saltwater crocs. Head along during June to August for cooler weather and shallow river crossings.
Birds in the area: Mitchell Plateau is home to some special birds including the black grasswren and Kimberley honeyeater, which can't be found anywhere else. Other special birds include partridge pigeon and white-quilled rock pigeon, a myriad of finches including the strikingly coloured Gouldian finch and red-tailed black cockatoo. If the woodlands are in flower then expect noisy congregations of honeyeaters and lorikeets, too.
2. Kutini-Payamu Iron Range National Park, Queensland
Another location that is off the beaten track is Iron Range, which supports one of the most significant remnants of lowland rainforest in Australia. Situated on the east coast of Cape York the drive up from Cairns requires a 4WD as there are several river crossings, which are impassable in the wet season. Bush camping is available at Gordon Creek and at Chilli Beach.
Look out for: Iron Range is a very special place with the forest alive with the songs and calls of rainforest birds. Trumpet manucodes, magnificent riflebirds, eclectus and red-cheeked parrots frequent the rainforest, diminutive white-faced robins forage through the campground whilst chesnut-breasted cuckoo and yellow-billed kingfisher provide constant background noise with their trilling calls. Look for palm cockatoo, white-streaked honeyeater and other honeyeaters in the surrounding woodlands.
Ad. Article continues below.
3. Kakadu, Northern Territory
Whichever way you look at it, Kakadu is an icon in Australia's reserve system. Expansive floodplains filled with waterbirds (and crocodiles, so watch out!) backed by spectacular sandstone escarpments that serve as the western boundary to Arnhem Land. Good sealed roads provide access to many key sites in both the wet and dry season. Many of the dirt roads to the waterfall sites are, however, closed during the wet season and so most visits take place from June to October. There are a number of well laid out campgrounds in Kakadu that cater for everything from tents to motorhomes.
Birds in the area: The wetlands are best for birdwatching in the late dry season, August through to October, when low water levels mean that vast numbers of waterbirds congregate on the few remaining water bodies. Yellow Waters and the early morning bird watching cruise is a must for keen birders. Many of the nearby rock art sites also provide opportunities to spot some of the difficult to find sandstone specialists. Look for banded fruit dove, chestnut-quilled Rock pigeon, sandstone shrikethrush and white-lined honeyeater in these areas.
4. Gluepot Reserve, South Australia
Gluepot is a privately managed mallee reserve about 70km north of Waikeri in the Riverland of South Australia. Access is via a good dirt track and although it's a little bumpy in places, the reserve is accessible without a 4WD. Call the rangers for an up-to-date assessment of the access road. Camping can be done in one of the three well laid out campgrounds. Pitfall toilets are the only facilities provided and visitors must bring their own water. To protect this fire-prone landscape, campfires are not permitted.
Ad. Article continues below.
Birdlife in the area: Gluepot was purchased by BirdLife Australia in the late 1990s to protect a community of threatened mallee birds. Such treasures as the black-eared miner, striated grasswren, red-lored whistler and the scarlet-chested parrot can all be found on the reserve. For some species such as the black-eared miner, the reserve supports the largest remaining populations known to science. There is a comprehensive visitor's centre that includes a daily update of bird sightings on the chalkboard and the rangers are often on-hand to provide some extra tips to locate some of the special birds.
5. Mallacoota and Croajingolong National Park, Victoria 
The township of Mallacoota and the adjacent Croajingolong National Park provide access to tall coastal woodlands and heaths, and long sandy ocean beaches. All forms of accommodation are available in the township whilst the national park hosts some great campgrounds such as those at Wingan Inlet and the Thurra River.
Look out for: The coastal heathlands in this area support the rare ground parrot and the tiny southern emu-wren whilst the woodlands harbour such gems as the glossy black cockatoo, spotted quail-thrush and the wonga pigeon. Many of the larger inlets support a pair or more of the majestic white-bellied sea eagle whilst those who are out at night might chance upon an elusive large forest owl – masked, sooty and powerful owls all frequent here.
6. Dorrigo Plateau, northern New South Wales
Ad. Article continues below.
It's a very scenic drive from the coastal plains up onto the plateau with several opportunities to stop at roadside lockouts along the way. Stop at Dorrigo National Park and visit the skywalk to marvel at the expansive forest below. There are camping and accommodation options in the nearby township of Dorrigo and for those that seek a more secluded site to pitch the tent try Platypus Flat in the nearby Nymboi-Binderay National Park.
Birds to spot in the area: There are some great birdwatching opportunities in the area. Try the Lyrebird link track (an easy 800m walk on a gentle grade) that starts from the Dorrigo Rainforest Centre. Here you might find green catbird, regent bowerbird, southern logrunner and Lewins rail. Australian brushturkeys are also common here. From the lookouts, scan for soaring birds of prey including the grey goshawk and wedge-tailed eagle.
7. Cape Le Grande National Park and Esperance, Western Australia
Accessible from Esperance via sealed roads, the beaches of Cape Le Grande National Park are arguably some of the most spectacular in Australia with white sandy straights and turquoise waters. Facilities include well-appointed campgrounds with hot showers and barbecue facilities. Most of the sites at Lucky Bay are rather open providing good access for larger vans and motorhomes. More secluded sites for camping can be found at Cape Le Grande Campground.
Keep a look out for: A series of walking tracks span the various headlands and link the beaches, meaning that bushwalkers can tailor their walks at various lengths. In the coastal heath look for red-eared firetail, western spinebill, brush wattlebird, white-cheeked and tawny-crowned honeyeater. The beaches host both Pacific gull and silver gull whilst white-bellied sea eagles soar overhead. Rock parrots, which breed on the offshore islands of the Recherche Archipelago, can sometimes be found feeding on the succulent plants that grow on the dunes behind the beaches. 
Ad. Article continues below.
8. Cradle Mountain, Tasmania
A spectacular craggy mountain range, framed by the serene Dove Lake, Cradle Mountain is already 'on the list' for most travellers who do the circuit around the Apple Isle. There are great camping and accommodation options along the entrance road to the park and all major access roads are sealed.
Birds in the area: Being in a subalpine area, birds can seem a little scarce at times but the rewards are there for those who look. Watch for cheeky black currawongs along the various walking tracks (don't leave your lunch unattended!), Crescent, black-headed and yellow-throated honeyeaters can be common in the nearby woodlands as can yellow wattlebird and green rosella. Cradle Mountain is also an excellent place for native mammals. During the day, Bennett's wallaby, Tasmanian pademelon and echidna are all common sights whilst a slow night drive up to Dove Lake carpark and back might produce sightings of eastern quoll, common wombat and even Tasmanian devil.
9. Lawn Hill, Queensland
Situated in the Gulf Country of outback Queensland, Lawn Hill is an oasis amongst the red dirt. The national park is accessible via dirt roads that are usually in good condition. A well-appointed camping ground (accessible to caravans) with lush green lawns provides a welcome relief after a long drive, as do the deep swimming holes just a short walk away.
Ad. Article continues below.
Look out for: Check the nearby pandanus lined river banks for purple-crowned fairy wren. The campground itself hosts red-winged parrot, varied lorikeet, great bowerbird and grey-headed honeyeater. The adjacent crags host sandstone shrikethrush whilst further out on the plains look for Australian bustard and brolga.
10. Hattah Kulkyne National Park, Victoria
As remote as you want to be, this is big sky camping at its best. There are campgrounds at Lake Hattah and Lake Mournpool that provide great sites amongst the giant red gums – the road to Lake Hattah is sealed to the entrance of the campground. When the lakes are full, one can paddle a canoe or take one of the walking tracks around the shoreline.
Birds in the area: One doesn't have to go far to experience the birds here as you are woken by the musical notes of pied butcherbird, whilst laughing kookaburra, apostlebird and white-winged chough all vie for your attention at breakfast time! Parrots are also a feature of this site, with yellow rosella, regent parrot, red-rumped parrot and mallee ringneck all occurring routinely in the campground. Gorgeous major mitchell cockatoos are often seen on the drive between Lake Hattah and Mournpool whilst slightly further afield towards the western edge of the park search for the mallee emu-wren, striated grasswren and malleefowl in the spinifex clad mallee.
What are some of your favourite bird watching spots around Australia? Let us know in the comments section below.