10 Best sunset spots in New Zealand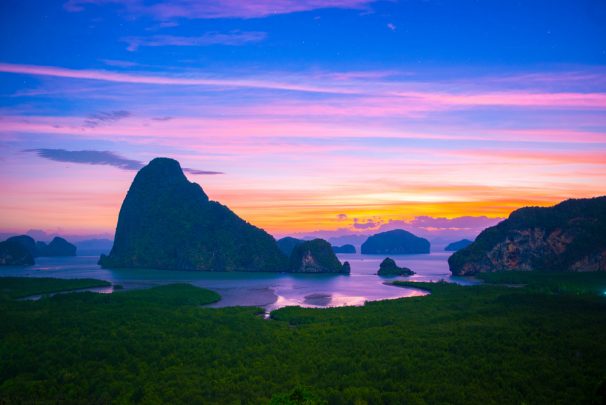 It was award-winning author Sharon Draper who said "Perfect happiness is a beautiful sunset," and we're inclined to agree. Once you've seen a sunset in one of these beautiful spots across New Zealand you'll know that happiness can come in beautiful shades of yellow, pink, red and orange. From the bay to the beach, here are some of the best sunset spots in New Zealand to catch a glimpse of on your next trip.
Read more: Explore the beauty of New Zealand
1. Lake Wakatipu
Ad. Article continues below.
An inland lake found on the South Island of New Zealand, Lake Wakatipu's alpine landscape, still waters and surrounding hills make it a beautiful sunset viewing point.
2. Bay of Islands
Ad. Article continues below.
Made up of more than 140 tropical islands, you'd be hard-pressed to find a better spot than this to watch the sun set over the horizon. You'll feel a million miles from anywhere here.
3. Pilot Beach
A calm beach at the mouth of Camden Haven River, Pilot Beach is the perfect place to go for a dip and watch the sail boats bob atop the water as the sun goes down.
Ad. Article continues below.
4. Cloudy Bay
Named Cloudy Bay by Captain Cook in 1770, this region is the perfect stop on your New Zealand road trip to sit and watch the sun set over the water.
5. Karioitahi Beach
Ad. Article continues below.
A wide sandy beach in the south of Auckland, Karioitahi Beach is perfect place for surfing and horse riding, or, if you just want to relax and enjoy the view, wait for a sunset like this one.
6. Akaroa
Ad. Article continues below.
About the size of Singapore, Lake Taupo is more like an inland sea than a lake. Spend the day going for a hike, or a boat ride along the water, before ending the day with a view like this.
8. Maketu Beach
Ad. Article continues below.
This is where the Maori first arrived in New Zealand from their great Polynesian migration. You'll feel like you're stepping back in time here, as the area has been beautifully preserved. Just remember to get the camera ready as the sun sets.
9. Auckland
New Zealand's largest city might be a dining and shopping hub, but the view of the water at dusk is nothing short of breathtaking.
Ad. Article continues below.
10. Titahi Bay
Located on the North Island, Titahi Bay is a beautiful spot to drop your anchor. The bay was settled by the Maori before European arrival. What a beautiful spot it is to watch another sun setting on the day.
What are some of your favourite spots to watch the sun set in New Zealand? Let us know your favourites in the comments section below.