Al Ain is known as the 'Garden of the Gulf' and it lives up to its name with beautiful gardens, date palm farms, and streets lined with flowers and trees.
Al Ain is a city of around 800,000 people (mostly expats) lying on a flat area near the border of Oman. Between Oman and Al Ain is the Al Hajar Mountain range with Jebal Hafeet (mountain) juxtaposing Oman and Al Ain.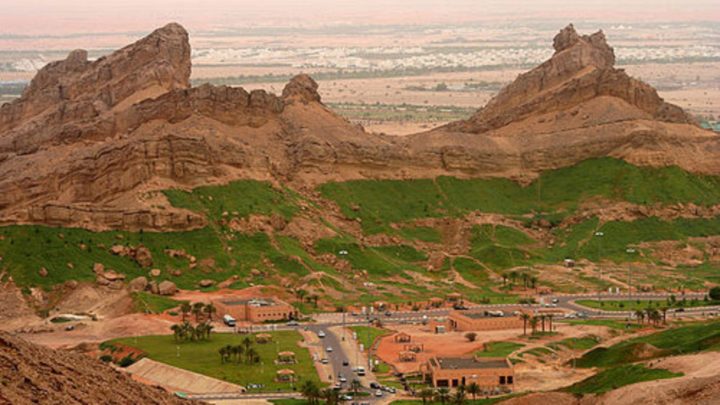 At the bottom of Jebal Hafeet is a beautiful hot spring within an area called Green Mubazzarah, lush with grasses and plants and plenty of fireplaces, seats and a couple of enclosed swimming pools divided by gender.
Driving up the well-designed bitumen road toward the top of Jebal Hafeet, you find the Mercure Inn Hotel that has an al fresco area with excellent views over Al Ain where you see the roadway snaking around below and Al Ain City. Although I tried on numerous occasions to take a clear photo of Al Ain from the Jebal Hafeet, I never found a day when the sky was clear as the nearby sand dunes blow fine sand into the atmosphere. My work colleagues told me that it was only ever clear after it rained, which was rare and when it did, I was inevitably working and couldn't trot off to take a photo.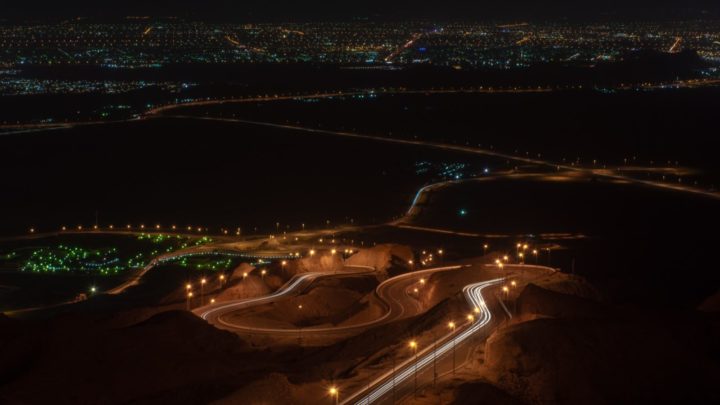 Farther up Jebal Hafeet is a beautiful palace belonging to the UAE Royal Family. The road was built initially to enable access to the palace, but I understand cars have given way to helicopters and the Rulers of Dubai use it as an occasional escape. Oh, to be so lucky!
The last stop up the mountain was, when I lived there, a large flat, bitumen area where you could park for a while and take in the views on both sides of the borders. The mountain areas are brown and treeless, consisting of sandstone and some granite, but the shapes are lovely. There was a small shop there selling drinks and foodstuffs so it could be used as a picnic area.
In the city of Al Ain were something like 400 roundabouts, all but a few of which are elaborately decorated with everything from large camels to treasure chests. I understand that millions of dollars are being spent as I write, on upgrades and additions.
When I lived at Al Ain it was impossible to get a street map so people would use Google Earth to take screenshots of their house to show you how to find it. We also used to refer to the roundabouts as key geographic features to help navigate. They were most helpful.
In the centre of the city Al Ain has the Al Ain Museum that is a must-visit and a beautiful nearby date palm gardens that still maintains the traditional mud-brick fences and flood irrigation methods that have been used in the oasis for probably thousands of years.
If you intend visiting the United Arab Emirates try to fit in a couple of days to visit Al Ain, preferably around December during the Northern Hemisphere winter as it gets up to 50 degrees Celsius in summer. There are four very modern hotels in the city to stay at where you can get a cold beer, glass of wine or spirits and a variety of lovely foods at reasonable prices. The fish from the gulf is to die for!
The citizens with whom I dealt during my three-year stay were invariably hospitable, lovely, friendly people. I'm sure that hasn't changed since I left. You'll love Al Ain as much as I did.
Been travelling? Travel at 60 wants to publish your story. Simply sign up as a contributor and submit your stories. When your story is published, you'll go into the draw to win some great weekly prizes. You can also join the Travel at 60 Travel Lovers Club on Facebook to talk to other travellers in the Travel at 60 community.