Though my legs still complain on the way down I reflect that the rest of the day might be mostly driving. I'd checked my 21 pages of research and narrowed today's must-sees down to Calf Creek, as in Lower Calf Creek Falls specifically. The parking area was easy to spot, only $5 per vehicle, and the track was soon beneath foot. Only trouble was, it was about 3 miles (4.8 kilometres) in and 3 miles out. Had it involved more hills I may have backed down but I had the time so I set out, hoping it wouldn't be too strenuous.
Much of it was sandy, weaving its way through formations and around washes. It was one of the more pleasant strolls I would do; people were friendly, as they mostly are on hiking trails, and the constantly changing vistas kept your mind off most of the hurt.
At one stage you were supposed to be able to see ancient Indian grain storages, but a few of us looked without result. Just after passing a large lagoon the trail twisted into yet another canyon and it is at the end of this that water could be heard splashing.
I queried a young girl about how far to go and she said, "Oh, only about half a mile from here". About 500 metres further on I asked a mum with her children the same question and she brought out her GPS. "Exactly one mile further." Mmmmm.
From then on there were a lot of people returning, probably around 30 in scattered groups. A father and his child had passed me some time earlier and he had been carrying a large tripod and a back pack. I speculated that perhaps, once he had set up his equipment, he might have scared them all off, so it came as no surprise when I finally reached today's goal and, presto, only the father and his effervescent child, scurrying back and forth in bursts of energy, were there. His camera was an old Bellows style with massive plates to expose but, for the life of me, I couldn't figure out why he was shooting from where he was. It did make it easy though because we weren't about to get in each other's way.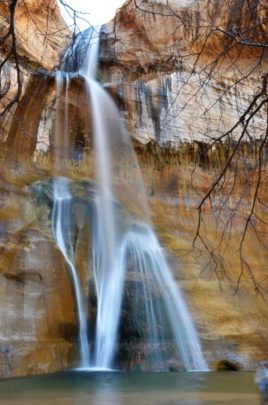 The falls had a good flow, obviously benefitting from some snow nearby, and the angles were explored for a good 10-15 minutes before I retired, stopping for a while about a mile back, on a rock overlooking the lagoon, to soak up the atmosphere of this delightful place. An old couple I'd befriended earlier apparently hadn't made it, but I was surprised to see some late arrivals just starting out when I neared the carpark; they clearly wouldn't get back in daylight.
A couple of super fit looking women from Canada were also just leaving and I queried as to how far they'd get. They really didn't care but were going to run it and they said I should come to British Columbia some time to hike. Luckily I was able to mention that I'd done Grouse Grind, a 2.9-kilometre trail up the face of Grouse Mountain in North Vancouver (hardest ever), so I got some instant street cred as they jogged off.
Then it was onwards and upwards, though I had no idea just how far upwards. As the road meandered through the ever-deepening snow there were pull out points to take in the vast panoramas that offered themselves from time to time. It meant taking a few steps through knee-deep snow, but you wouldn't want to miss out.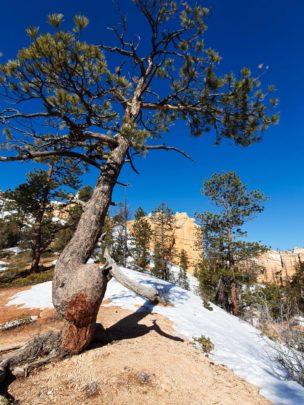 At the apex of the ascent of what I later learned was named Hogsback was a sign 'Summit 9,600 ft' (2,926 metres). No wonder there was snow up here! Finally the descent, a long and, at times, scary affair to the base of the snowline at a town called Torrey, which is where I'd spend the next two nights.
Where have you enjoyed a hiking experience on your travels? What are some of the best views you've encountered while travelling?
Been travelling? Travel at 60 wants to publish your story. Simply sign up as a contributor and submit your stories. When your story is published, you'll go into the draw to win some great weekly prizes. You can also join the Travel at 60 Travel Lovers Club on Facebook to talk to other travellers in the Travel at 60 community.