Days in the Dandenongs can find bushwalkers and bird watchers in the national parks, aflutter with vivid jewels of parrots, lorikeets, blue wrens and bellbirds. Lyrebirds and nocturnal fauna can be found on night visits to the forests. The tree ferns and Mountain Ash (which is said to be the world's tallest flowering plant) help keep temperatures down.
The 1,000 Steps Walk (also known as the Kokoda Track Memorial Walk) is an institution for fitness enthusiastics. It's a 3-kilometre trek and one of the most popular spots in the national park, but the terrain is steep and should not be underestimated. It's definitely for the totally energetic, but worth the feel-good at the end of the jaunt. Along the way you'll discover plaques depicting the lives of soldiers who fought and died on the real Kokoda Trail in Papua New Guinea during World War II.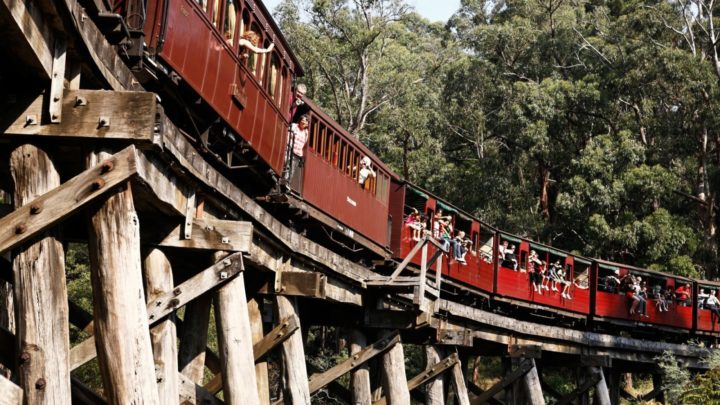 Puffing Billy is an vintage steam train, lovingly restored that can transport you back to a gentler time. It's no surprise that a trip on it is a popular attraction. The train winds its way through the bushlands, hooting in the hills. You'll want to allow at least half a day if you decide to journey your way into the Dandenong Ranges on the steam train, but you'll enjoy a traditional morning tea of lamingtons, crackers with Vegemite and tea or coffee if you do choose this mode.
A definite must is day spent exploring the many of nurseries in the area, to learn about and purchase magnificent specimens of flora. Art galleries are also a frequent tour, nestled amid the tree ferns and Mountain Ash gums.
No day trip in the blue Dandenongs in cooler times is complete without a cosy café, a crackling log fire, a pot of tea or coffee, and hot scones freshly baked, lashings of whipped cream and lovely jam. There is more formal dining in the variety of restaurants, ever popular for wonderful wedding receptions for nuptials in any age group.
Love is in the air, for our days in the Dandenongs, for all of us being 'hicks in the sticks'!
Been travelling? Travel at 60 wants to publish your story. Simply sign up as a contributor and submit your stories. When your story is published, you'll go into the draw to win some great weekly prizes. You can also join the Travel at 60 Travel Lovers Club on Facebook to talk to other travellers in the Travel at 60 community.