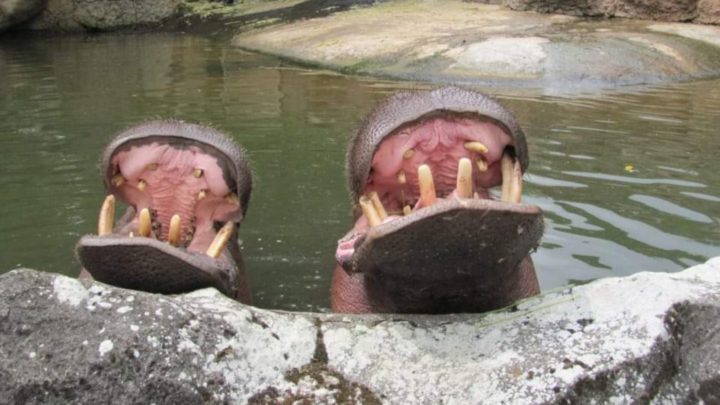 The hippopotamus with mouths open lazing in the rivers were next. The hippos loved the carrots. These animals were not to be approached, so the carrots were thrown from the car window and they expertly caught them, making strange noises until more was tossed their way. I never realised how big the teeth on these 'river horses' were until I saw them in a natural environment.
It wouldn't have been a wildlife park without monkeys, apes and all their relatives.
There are the obligatory monkeys, apes and all their relatives. These guys were pretty cheeky and if the window of the car was down too much, they had no hesitation in climbing inside.
I also enjoyed seeing wildebeest, zebra, buffalo, giraffes, lions, tigers and bears up close. In fact, the one place where your windows were not permitted to be open was in the big cat enclosures. We were also not able to feed these animals. For obvious reasons, the big cats were also kept well away from other, smaller animals. It allowed the other animals to mingle freely as they would in the wild, with no fear of being attacked.
The grounds and surrounds at Taman Safari were immaculate. The animals looked so healthy and happy.
I was fascinated by the Komodo dragons. I found them to be such fearsome looking reptiles and no doubt they are if one believes all the stories written about them.
It was while I was admiring a large Komodo by the name of Beamer that its keeper asked if I would like to pat him. Oh my gosh! I decided to throw caution to the wind and climbed into the enclosure with the carer to pat the beast.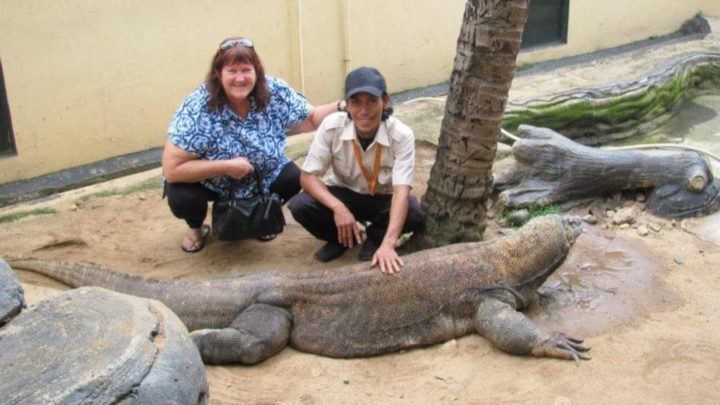 I gently touched the skin of the dragon and was amazed at how smooth and soft it felt. I swear Beamer was beaming even more after the petting. Or perhaps he was hungry … I made a hasty retreat from the enclosure after my encounter and thanked my lucky stars I was in one piece. My heart continued to race for quite some time after that moment.
My new-found bravery also saw me dare to hold a large python and again I took note of the soft, velvety skin to had.
A visit to Taman Safari Wildlife Park is a must if you're travelling in the Jakarta region of Indonesia.
Has there been a wildlife park or zoo experience that has stood out for you? Is there an animal you would like to have an up-close encounter with?
Been travelling? Travel at 60 wants to publish your story. Simply sign up as a contributor and submit your stories. When your story is published, you'll go into the draw to win some great weekly prizes. You can also join the Travel at 60 Travel Lovers Club on Facebook to talk to other travellers in the Travel at 60 community.