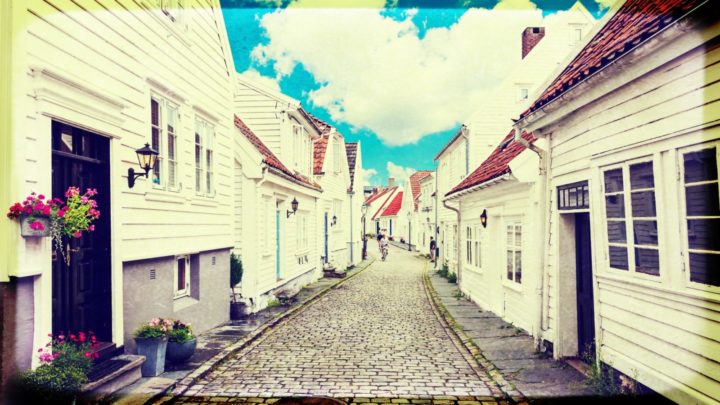 Stavanger town centre is not very big. One of the landmarks is its medieval cathedral — Domkirke, one of the best-kept old churches of Norway. It's also the only cathedral in Norway that has been continuously used since the 1300s.
Pulling up at a 'Hansel and Gretel' look-a-like house we were warmly welcomed by dozens more people before being shown to our digs. 'Digs' … Two flights of extremely narrow stairs saw us enter 'the attic' of my dreams. A triangular window overlooking a magnificent forest, before me was a truly sumptuous bed of grand proportions, umpteen mega-fluffy pillows and the largest, thickest, most luxurious duvet/doona I had ever seen. Beautiful tapestries, paintings, woodwork and … and … our very own bathroom. The joy of this discovery cannot be measured in human terms as, at the time, we shared our third-floor London bathroom with four other flats (remember, this was 44 years ago). I was in H.E.A.V.E.N.
A softly clanging bell announced dinner. As ordinary as it is now, a smorgasbord meal for we uneducated Aussies was completely foreign to us at the time, pardon the pun.
The generous summer buffet table offered a wide selection of cold dishes beautifully displayed in crystal dishes of all shapes and sizes, romantically softened and enhanced by dozens of exquisitely shaped candles and lanterns. Lumpfish caviar, pickled herring, sardines, herring salad, cheeses (made from the milk of goats, cows, and even reindeer), smoked gravlax, pickled beets, marinated cucumber salad. Fish, fish and more fish. Carefully presented, exhibition-like, almost as a ceremoniously pageant to demonstrate this as a food spectacular; yep, they did good. The whole scene glowed like a magical pixie-fairy party.
We were not quite sure of the etiquette, but our Norwegian hosts graciously showed us the way. Grab a plate and help yourself.
The traditional Scandinavian mulled wine called glogg was unseasonally served, this being August (summer). Traditionally a Christmas beverage our hosts decided Australian visitors deserved this special treat. The potion adds aquavit to red wine, simmered with cloves and cinnamon to produce a subtly sweet, but powerful drink best served hot. It packed a punch!
Off to bed because the following day was going to be big; fjord big!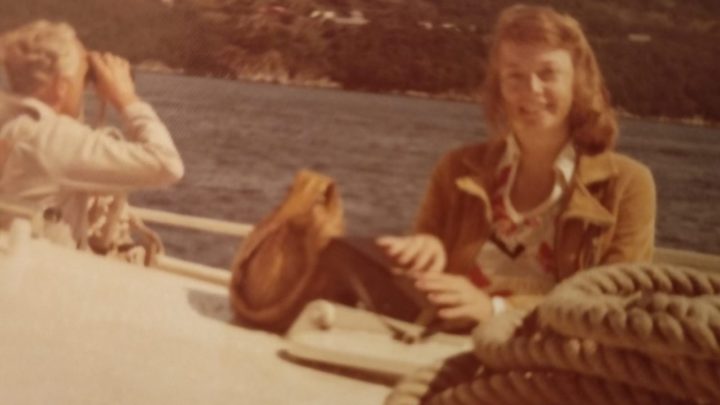 Lysefjord is one of the most beautiful fjords in Norway and one of the main highlights that attract hundreds of thousands of visitors to Stavanger every year. Jaw-dropping sheer walls amaze and startle, with the most famous of them — The Pulpit Rock — rising over 600 metres above the fjord; it truly is a sight to behold. I'd go back tomorrow simply to relive the astonishment and bewilderment, but I still would not hike to the top; happy to view from below.
The following day was ear-marked for travel deep into the forest and the committed summer Norwegian tradition of berry picking. I've never seen so many berries. All shades of red, purple and black. Most cherished is the fruit of the cloudberry plant, an amber-coloured fruit that resembles raspberries and blackberries and prized for its scarcity. We found 'em, we ate 'em. I think we ate more than we carried home in our baskets, but there was enough left over for that night's centrepiece dessert, the Strawberry Snow. A decadent homemade delight of heavy cream, ice cream, yoghurt, freshly picked mixed berries and the ingredients of several generations of gifted Norwegian cooks.
After four glorious days it was time to go back to dreary old London. I'll never forget Stavanger and our most gracious, welcoming hosts. We Australians were a rare commodity back in those days, but I have a feeling these warm convivial Norwegians greeted many a guest like family, regardless of nationality, and I am so pleased I was welcomed as one of them.
Been travelling? Travel at 60 wants to publish your story. Simply sign up as a contributor and submit your stories. When your story is published, you'll go into the draw to win some great weekly prizes. You can also join the Travel at 60 Travel Lovers Club on Facebook to talk to other travellers in the Travel at 60 community.