Our accommodation was three-stars, which we accepted because we were travelling on a 'beer budget'. It was reasonably priced. The staff were friendly and accommodating. My only disappointment was the breakfast menu, which meant every morning we ventured out to one of the many surrounding food outlets and purchased a hearty breakfast that included bacon, eggs, fried tomato and good coffee.
Anyone who has ever travelled to Bali before will know that the cost of most things there is very inexpensive. Our breakfast each day came to the princely sum of AU$5.80 for both of us.
The hotel had a pool that we made good use of. We even went for a night swim before bed. It was a surefire way to cool down from the heat and humidity around us. At times it was such a relief to get inside to the cool air of our room.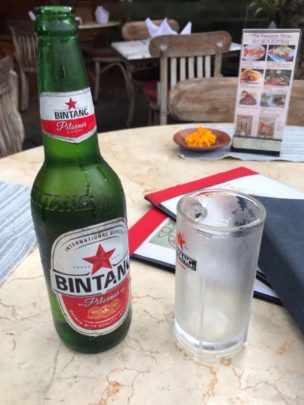 Though I struggled, it would appear my husband — who remained a ray of sunshine throughout the whole trip — was unaffected by the weather. He once told me to "toughen up", which I was unimpressed by, as the wedding would be held on Legian Beach.
As beautiful as the wedding was, I feel the same could have easily have been achieved had it been on one of the many beautiful beaches in Queensland (or anywhere in Australia for that matter).
After four days in Bali, we returned to Australia. I often wonder how long it would have taken me to adjust to the extremes of the temperatures they have there and enjoy the sights on offer.
Have you travelled to a destination and been shocked by how different its temperatures were to your home? How would you prepare for overseas travel when the climate is different?
Been travelling? Travel at 60 wants to publish your story. Simply sign up as a contributor and submit your stories. When your story is published, you'll go into the draw to win some great weekly prizes. You can also join the Travel at 60 Travel Lovers Club on Facebook to talk to other travellers in the Travel at 60 community.