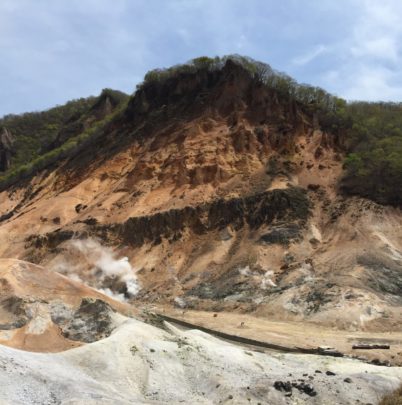 Located in Noboribetsu Onsen (hot springs) area is the Park Hotel Miyabetei. It was here we would be having lunch.
My travel group negotiated the sturdy railed boardwalk and were advised not to venture anywhere near the hot pools. None of us did, we could see they were boiling hot.
We then enjoyed a delicious and authentic Japanese lunch, which was a real cultural experience. We cooked our own meat in a broth over a small cooker with a flame. Each guest had their own. What I have always loved about Japanese culture is their sense of order and the beauty of their everyday utensils. The table was so perfectly set with small dishes of things to nibble on and enjoy. Some of the dishes were a bit of an eyeopener for me, but I gave it a good try. I didn't really want to know the origin of, but thought "what the heck".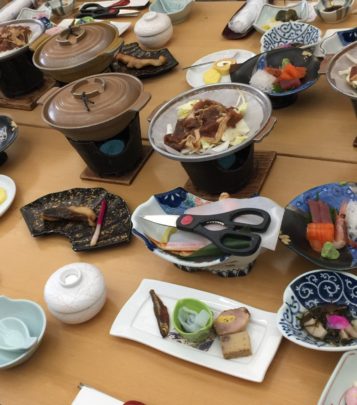 Then it was time for me to take my clothes off.
Part of our tour involved having a genuine Japanese bathing experience. This of course required getting naked. The hotel offers five different types of natural hot springs baths. There is an open-air bath with a wooden roof and a large public bath. Men and women are separated. If you are shy about bathing in public, you needn't worry. No one will stare at you, it's considered rude.
Another thing, tattoos are highly stigmatised in Japan and people who have them can be banned from most onsen, sento (public baths), ryokan (traditional inns) and places such as pools and gyms. In Japanese culture, having a tattoo means you are of bad character and could potentially be associated with a gang. In the interests of disclosure, I have a small tattoo on the lower middle part of my back, so it needed to be covered for me to take part in this activity.
Picture me, or maybe don't, standing completely naked in front of a floor-to-ceiling mirror in my stateroom trying to affix a sticking plaster to a part of my back I cannot reach! It was comical, I can tell you.
In the group of us who decided to indulge in this Japanese bath, I was the first to go in. Japanese women crouched in small cubicles and scrubbed themselves down prior to the dip. I did the same, although with far less finess. Several women were already in the large indoor bath. I tried to nonchalantly slip into the water. However it was so hot!
I was immersed for about 10 minutes before my fellow travellers followed suit. I could feel myself relaxing, but felt I might pass out if I stayed in the water too long. I got out and had a cold shower prior to redressing.
I felt pleasantly chilled out afterwards. My skin felt smoother and softer, and I had a really deep sleep that night.
I thoroughly enjoyed all of the shore excursions on my cruise. I felt safer being a first time solo traveller to be part of the groups organised by the ship's shore excursion crew. The Azamara cruise line focuses on 'cultural immersion', so the shore tours reflected this philosophy. We met the people of the region and got to see how the locals lived.
Do you enjoy immersing yourself in local customs when travelling? What experience would you recommend?
Disclaimer: The author was a guest of Royal Caribbean, which included accommodation on Azamara Quest, tours and on-shore excursions. However, none of the parties reviewed or approved this blog and the opinions contained within are the author's own.