We went to a jewellery manufacturer and also the Stanley Markets — a street market on Hong Kong Island with an interesting array of shops selling silk garments Chinese costume jewellery, souvenirs and art — and had a ride on a boat to see all the house boats where families still fish and live. It was very exciting for Mum and Dad and they enjoyed it greatly.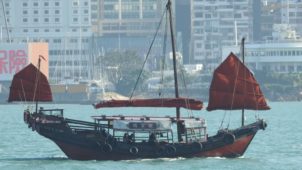 We ended up taking the bus up to Victoria Peak and Harry was amazed at how he could see buildings with bamboo scaffolding and workers on it. He marvelled at how strong it was, though we could see it swaying in the breeze.
At the rear of the Marco Polo is a mall and we found a lovely Thai-Chinese restaurant for dinner. Mum and Dad had never experienced such cuisine before, so were apprehensive about what to order. My husband, David, and I were quite surprised to learn this. When the waitress came to take our order, she helpfully suggested that they shouldn't order too much. She was right! The food was so fresh and full of flavour, we returned every night.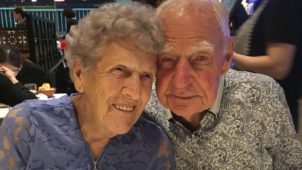 I've always loved Hong Kong. It saddens me that travellers need to exercise a high degree of caution to travel there now, what with the protests and violent clashes being unpredictable. When we visited, I was delighted by this modern city, steeped in ancient history and diverse in culture. It's well worth exploring! It was wonderful that Mum and Dad enjoyed their visit as much as my husband and I did.
We took the ferry to Hong Kong's Observation Wheel. At 60 metres high, it's a great place to get a stunning view of the Victoria Harbour. The wheel has 42 luxurious cabins (called gondolas) that comfortably seat about eight people.
We also took the hop-on, hop-off bus around Hong Kong, which allowed us to see many of the traditional temples, historic colonial sites, architecture, shops, bars, and markets. Mum and Dad were given a complimentary upgrade because it was their wedding anniversary, something we were very grateful for.
David and Harry sat on the top of the double-decker bus, while Mum and I saw the sites from below. Mum's a bit unsteady on her feet these days and the stairs were pretty tight. It didn't matter that we were separated because we all had headphones on so that we could listen to the commentary.
We were able to visit the Victoria Peak again, this time dropped at the tram where our VIP tickets had us at the front of the line in no time. Mum and Dad sat at the front. Riding the tram is an experience on its own. We marvelled the at the number of skyscrapers we passed on our way to the top.
If there is only one thing you do in Hong Kong, I'd recommend visiting the Peak. It's the highest point of Hong Kong Island. On a clear day, which it was this time, you can see our across the skyscrapers and Victoria Harbour to the green hills of the New Territories.
Hong Kong is also a great place for shopping and boy, did I shop! Many of the specialty stores had sales and I got most of my Christmas shopping for my children done.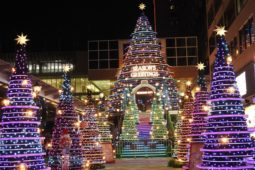 Speaking of Christmas, Hong Kong loves this festive season. Many of the store windows were done up with displays, Christmas lights, trains, polar bears, Christmas trees. It was a thrill to be there and see it all.
The Ladies' Market is in Kowloon and if you're looking for clothing, accessories and souvenirs, this is the place to be. This market has more than 100 stalls on the street selling everything a woman could possibly want. It got its name from the large amount of clothing and accessories for women on sale, but you'll also find watches, cosmetics, home furnishings, music and trinkets to take home with you. Just be prepared for crowds — it can get quite busy.
Of course going to Hong Kong and not having something tailor made is ridiculous, so Dad had a couple of pairs pants made up and I picked some fabric for him and we paid for a shirt to be made too. David had a beautiful jacket made, using the same design as a jacket we had brought with us on the trip.
Before we knew it the week had flown by and we were helping pack Mum and Dad pack their bags and put some of what I had bought in there luggage.
I hope the unrest in HOng Kong eases soon. Hong Kong is such a beautiful place to visit and we'd like to get back there soon.
Been travelling? Travel at 60 wants to publish your story. Simply sign up as a contributor and submit your stories. When your story is published, you'll go into the draw to win some great weekly prizes. You can also join the Travel at 60 Travel Lovers Club on Facebook to talk to other travellers in the Travel at 60 community.