As I worked my way through the arroyo on the left-hand side, the occasional footprint was visible along with some hoof marks. Scrubby bits of vegetation were barely surviving in the sandy soil and I tried to carefully watch where I put my feet in order to not crunch any delicate flowers, though they were few in number. Angles came and went until, after about an hour, I guessed I'd need too much time to explore further so I returned, still not 100 per cent sure of where I was going.
To compound the felony, I'd left my copious research notes behind on the day when the trickiest directions were what I needed. That's how I found myself in the Tuba City (Arizona) library, re-doing the research. Every entry said it was tricky getting to Blue Canyon and lots of dirt road was involved so I weakened and canned the idea, opting for Coal Mine Canyon instead.
While grabbing a shake at Maccas, my first visit to such an establishment, I enquired of a local as to where Highway 264 was, this street or the next one along? "No, never heard of it. Where do you want to go?" Coal Mine Canyon I informed him. "Oh, that's this road here. Just follow it."
"Thank you," was my parting and as I accelerated down the street, I couldn't help but notice the sign for 264 standing proudly on the footpath. Something obviously the locals have overlooked. Just down the road was Moenkopi, a Hopi area with a population of just under a thousand and it sits in a neat fertile basin surrounded by low cliffs. The irrigated green colour tends to stand out a bit from the surrounds.
Luckily I had the directions to Coal Mine this time, because there is no sign, it's on private property and you can't see it from the road. Between mileposts 363 and 364 you turn off onto someone's property and aim between a two-storey house and a windmill. It's okay, they're about half a kilometre apart.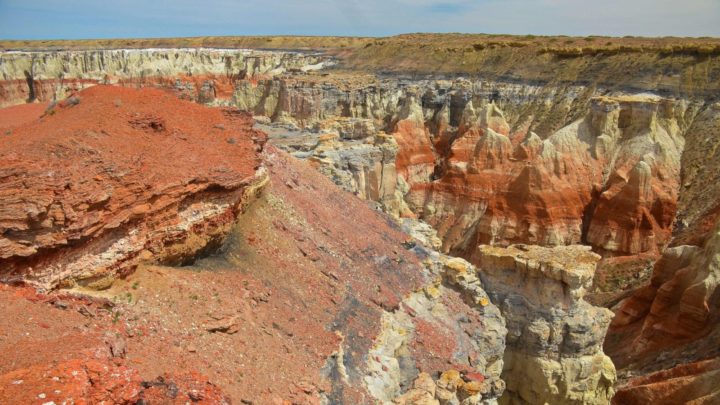 I pulled up beside a photogenic ruin and grabbed my gear. As I stood up, the attraction of Coal Mine became clear. It was everything I'd hoped for and more. The reality of it was simply that it was the finest canyon I'd ever seen.
Sure, it's not as deep as the Grand Canyon, doesn't have as many hoodoos as Bryce, doesn't quite have the sheerness of Zion and has no more colour than Cottonwood Canyon Road; but, it has everything; all of those features crammed into one of the earth's most magnificent compact canyons. Why it's not a major attraction I don't quite understand; perhaps it's where it is that causes people to miss it. This would be backed up by the fact that other nearby canyons are rarely visited also. Perhaps it's because this is distinctly Indian country, as was the Square Butte earlier. All along the main routes you see stalls selling jewellery. I couldn't help but think if they got a bit entrepreneurial they could make an absolute killing by developing some of the sites.
Still, I was more interested in this washed out hole in the ground. It's on the edge of the 120-mile wide Painted Desert. The colours were the like of which I'd never seen before in one geological place. I moved around to parts where you could get out to; couldn't stop shaking my head at what was there in front of me. Weird shapes, the layer of coal that used to be mined almost on top, the patterns in the rocks; I didn't know where to look first.
After I'd spent over an hour poking in here and there I worked my way further south until I came across the benches that someone had put there. However, to my despair, I noticed there's also a rope-supported trail to the bottom just a bit further on. Physically, I hadn't enough left in me to go down but, know when you go that it's an option. If you want to get to this point first you should drive to the side where the windmill is.
I've read another report since on another site that indicates you can drive to two other access points as well, further down the road, but I was unaware of those at the time. Also, you'll read that you are on Indian land and, from every bit of information I could glean, it's Navajo up the top and Hopi down the bottom. I tried to contact the Hopi regarding a trip to Blue Canyon but ran up a dead end, so I gave up after that.
If you're looking for a café and accommodation beside a major attraction, you've come to the wrong place. However, if it's solitude and a wonderful natural experience that fits the bill, then look no further.
Have you visited the Grand Canyon? Is a hiking holiday something you are interested in?
Been travelling? Travel at 60 wants to publish your story. Simply sign up as a contributor and submit your stories. When your story is published, you'll go into the draw to win some great weekly prizes. You can also join the Travel at 60 Travel Lovers Club on Facebook to talk to other travellers in the Travel at 60 community.