The GoldLeaf service offers unparalleled panoramic views from your seat and also has a large outdoor viewing platform located outside the carriage. Meals were prepared to order and served in a private dining room with large picture windows on the lower level.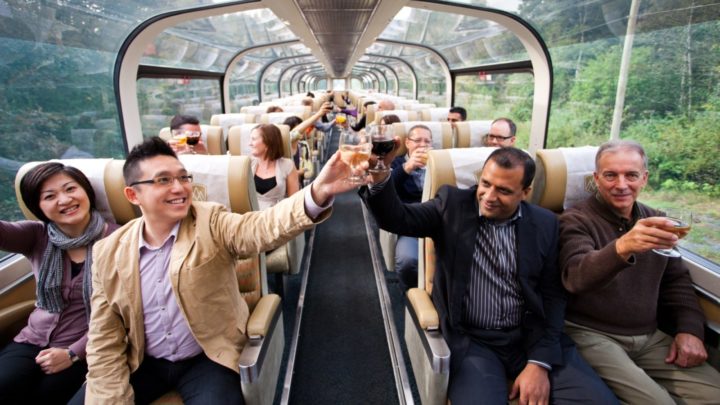 We travelled by SilverLeaf service. We still experienced the stunning views of the pristine Canadian wildernaess via a custom-designed single-level glass-dome coach. There was also a smaller viewing platform located outside the carriage, which provided the perfect escape for getting a whiff of the fresh alpine air and made us feel incredibly close to nature.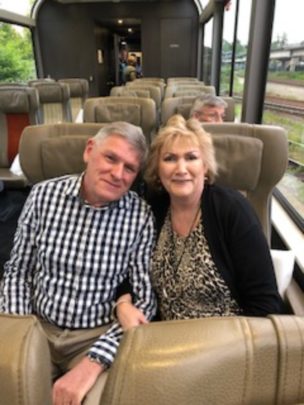 Our meals were delicious! It was gourmet cuisine prepared from fresh ingredients that had been sourced locally. We had our choice of two entrees, two main meals and decadent desserts. Breakfast was served with a choice of a healthy or not-so-healthy options, but whatever you choose it will be delectable. Our meals were served to us in our seats in SilverLeaf. In fact, we were waited on hand and foot! The meals, gourmet snacks and beverages (alcoholic and non-alcoholic) were complimentary and offered regularly throughout our journey.
There are four routes to choose from. The Coastal Passage takes you from Seattle to the Canadian Rockies via Vancouver, the Rainforest to Gold Rush Passage is the route from Vancouver to Jasper via Whistler and Quesnel, the Journey through the Clouds is the route from Vancouver to Jasper with a stop in Kamloops, and the First Passage to the West is Vancouver to Banff via Kamloops and Lake Louise, which is the route we took.
This route is considered the Rocky Mountaineer's most popular and it's the only passenger rail service along the trail, celebrating the connection of Canada from east to west. Not only does our journey offer spectacular scenery, but there was much history to be learned along the way, including hair raising tales of witchcraft and the site of the 'Last Spike' where east and west were united. We enjoyed the calm blue-green waters at Kinbasket Lake and twisted our way through the Spiral Tunnels that have been around since 1909.
While we enjoyed the spectacular Rocky Mountains scenery, and ate our meals, the entertaining Rocky Mountaineer hosts on board give a very informative running commentary on places of interest that we passed by, and if wildlife were spotted, the hosts let us know which side of the train they were on and the train slowed down so everyone got a chance to see them. We'll never forget the sight of a mother grizzly bear coaching her two cubs to hurry along — all they wanted to do was play!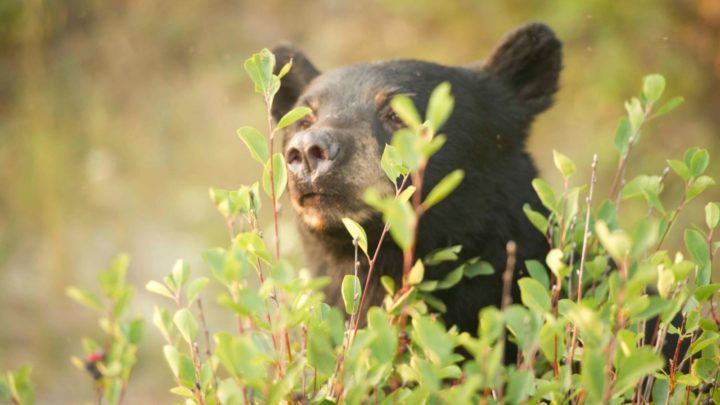 There were at least three staff in each of the carriages and all were knowledgeable and attentive to our needs.
At the end of the day all we had to do was board our courtesy bus to our hotel. It was so easy! Our luggage was at the hotel on our arrival.
The reason you don't travel overnight on the Rocky Mountaineer is because there is so much beautiful scenery to experience. You won't want to miss a minute of it!
We were so impressed with how thoroughly organised everything was. It allowed us to focus on enjoying our holiday. Life is too short, you need to embrace it and enjoy it and a journey with the Rocky Mountaineer was the perfect way to really feel like we were living!
What travel adventures are on your bucket list? Have you travelled on the Rocky Mountaineer?
Been travelling? Travel at 60 wants to publish your story. Simply sign up as a contributor and submit your stories. When your story is published, you'll go into the draw to win some great weekly prizes. You can also join the Travel at 60 Travel Lovers Club on Facebook to talk to other travellers in the Travel at 60 community.