The trail has a feature, a natural stone bridge. That conjured up all sorts of images in my brain but I wondered if the 8 kilometres would push my dodgy knees to the limit. Nothing ventured …
There was an expectation of wildflowers. It had said on sites that I'd checked that now was a prime time. They weren't immediately apparent but when I came across the first batch it was merely a prelude. Soon they were in abundance, at times the best displays I'd ever seen. Violet, yellow and white were in profusion, scattered all along the edge of the track.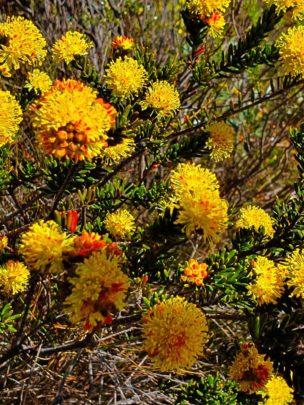 At two points there were lookouts, one, Illawarra, with expansive views to the coast and beyond while the other, around halfway, was a raised platform with genuine 360-degree panoramas. The track itself was a four-wheel drive road and quite rocky in places but I trudged on, surprised at how well my dodgy legs were going.
The weather was also being kind for the first time, sunshine bathed the area most of the while and I dwelt on the word 'barren'. I'd been in Ireland and visited the Burren, an amazing area of seemingly bare rock that, in the little cracks that have formed, harbours over 1,100 plant species, hardly any rising more than a couple of centimetres above the rock. Here, at Barren Grounds, the vegetation was prolific. Though a lot of the growth you can see over, it's so dense as to be impenetrable.
From time to time I came upon other walkers but I was getting excited in anticipation of the Stone Bridge that featured on so many signs, writ large on the boards. The reality was virtually a non-event. Though a pleasant spot to stop around the 6km mark if you walk the trail clockwise, it's just a small hole in the sandstone that the creek has found its way through.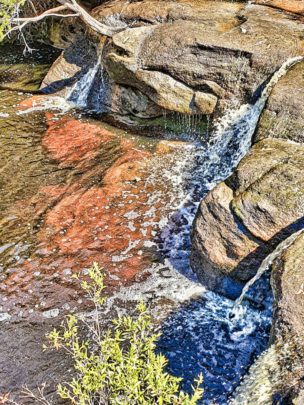 Not soon after, walking about 500 metres of slight uphill, I started to hear some birds. Having lost count of the amount of times I've gone for walks and lugged my cumbersome and heavy telephoto gear to no avail, always on the premise that, when you need it you haven't got it, I was overcome when I actually raised it and a bird didn't fly away. In fact, as I zoomed in, I realised it was a species I'd never seen before. That it was a finch was immediately apparent by its beak, but the other markings were a mystery to me. There was a spring in my step after that.
Further on there were a few others but nothing I wasn't familiar with, though I would have loved a better crack at the golden whistler along the last kilometre of the plateau section. Then the walk was over. I packed up and stole away, eager to ascertain what I'd shot. However, it wasn't an easy search, and I spent 10-15 minutes trolling through sites before finally coming up with a result. It was, indeed, a Beautiful Finch. Finally, just once, I'd gotten lucky.
Been travelling? Travel at 60 wants to publish your story. Simply sign up as a contributor and submit your stories. When your story is published, you'll go into the draw to win some great weekly prizes. You can also join the Travel at 60 Travel Lovers Club on Facebook to talk to other travellers in the Travel at 60 community.