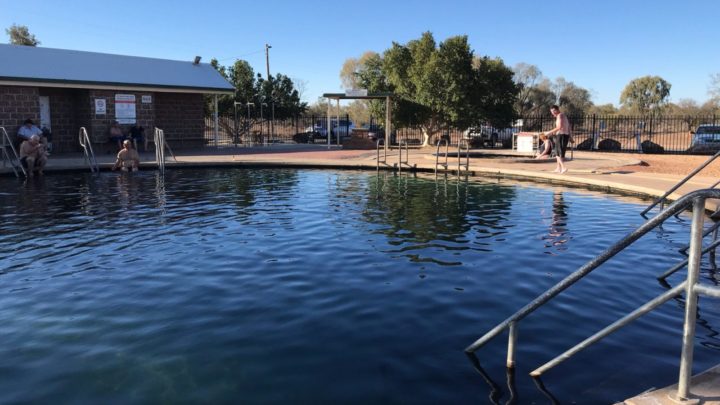 The water in the baths comes from the Great Artesan Basin and is said to be about 2 million years old! It was quite warm, about 42C (107F) however, we took a short dip then sat on the steps with half our body in, which was refreshing. It was a great meeting place of people from all over Australia. We chatted to our fellow bathers.
We were pleased to see two comediennes, Susie and Mel, at happy hour at the caravan park. They were delightful and we'd seen them perform at Winton, so we knew they put on a good show. They certainly didn't disappoint.
The next morning John did a self-guided tour of an open mine while I enjoyed taking photos of the different native birds, new to what we see in Sydney.
As we drove further north into Queensland we shed our jackets and were happy to enjoy the warmer weather. Our next stop was St George, situated on the Balonne River. We love campfires and meeting people and try to find the caravan parks that light a fire during happy hour in winter. It's just the friendly atmosphere and talking to fellow travellers who we would never have met or probably will never see again, that makes it interesting for us.
St George has experienced significant floods over the years, the most recent being in 2012. By the river there is a pole showing the heights of several big floods.
It's one of those outback country towns you want to keep coming back to. John and I have been to St George three times now. In town there is a good indigenous gallery, the Mani Tribe Gallery. One of the artists Johnny, showed us around, explaining the stories behind the lovely paintings and even played the didgeridoo for us.
We had lunch at the Riversands Winery. Lunches on our trip were usually pub lunches. We had our main meal during the day then had a light dinner in the cabin.
We sadly left the warmth behind, heading back into NSW towards Moree. Along the way we came across a great silo mural at Thallon, Queensland. These silo murals are becoming popular tourist spots, bringing the small towns the important tourist dollar as people stop and buy meals and fuel instead of just passing through.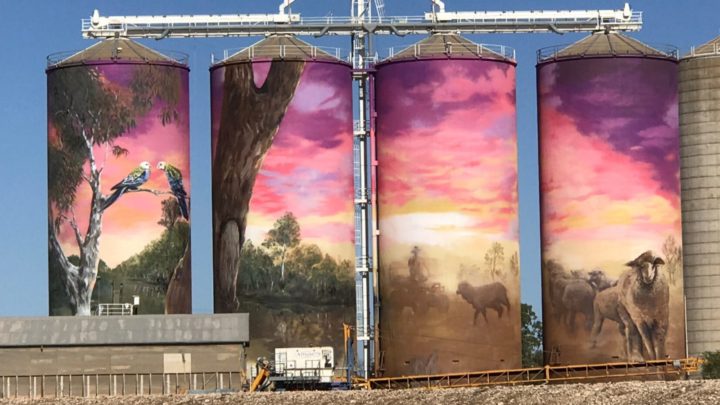 Moree have murals of a different type, not on the silos but on buildings. We took photos of some vibrant murals from sunflowers to off road trucks. We had a drive map, which made them easier to find as we were driving along.
Moree is known for its thermal baths, which date back to the 1890s. On the day of our visit there was a cold wind blowing when we entered the pool and that made it very cold when we had to get out.
The cold followed us into Glen Innes, we woke to a dusting of snow, driving south it was a winter wonderland until Guyra where we turned east and drove down the Waterfall Way to Urunga. Our country was once more green. Our road trip was almost over, we had experienced the cold, the warmth and the dry all in two weeks. Home was only a few hours away. Time to plan the next trip.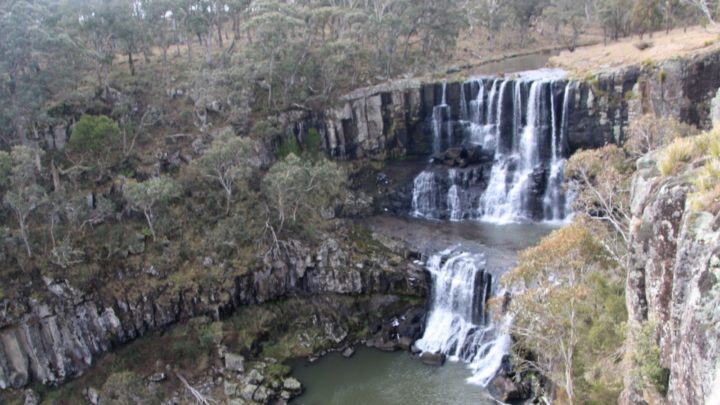 Been travelling? Travel at 60 wants to publish your story. Simply sign up as a contributor and submit your stories. When your story is published, you'll go into the draw to win some great weekly prizes. You can also join the Travel at 60 Travel Lovers Club on Facebook to talk to other travellers in the Travel at 60 community.